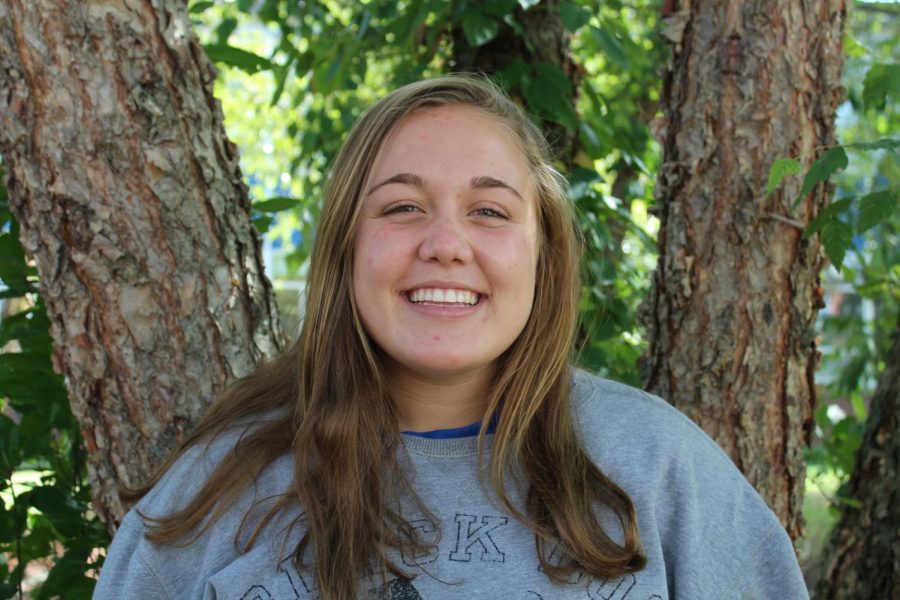 Senior Caroline Stevenson is excited to complete her Scituate High School career as an editor for The Scituation.
Known as an extremely outgoing and involved student at SHS, Caroline enjoys representing the student perspective as one of the prominent voices at school committee meetings. Most recently, she advocated on behalf of her peers to keep the school's late-start Wednesday schedule.
Caroline has a passion for history and English; however, her favorite class is Honors Journalistic Writing. She aspires to apply the skills she's learning to a career in journalism. With high hopes of attending a major university with a respected communications and broadcast media program, she dreams of becoming an on-air news reporter while also working on social media.
After school, Caroline can be found playing hockey on the field and on the ice: She is a member of both the field hockey and ice hockey varsity teams. Caroline serves as Model UN's secretary, and she is involved in several other extracurriculars.
In her free time, Caroline enjoys hanging out with her friends.  As an experienced camp counselor, she has spent a lot of time with the children.
At The Scituation, Caroline looks forward to writing stories that will help get the Scituate student body more intrigued and eager to read. Her collaborative nature and her enthusiastic approach to writing will undoubtedly be appreciated as she continues her tenure at The Scituation.
Caroline Stevenson, Managing Editor
Mar 16, 2020

Social Distancing Sucks. But Corona Sucks More.

(Story)

Mar 10, 2020

No Seats for Seniors

(Story)

Mar 06, 2020

SHS Students Embark on Week-Long "Pura Vida" Trip 

(Story)

Feb 05, 2020

Keeping Up With SHS Alum Julia Cuneo

(Story)

Feb 04, 2020

Who Dunnit? SHS Shocked by String of Math Hallway Crimes

(Story)

Feb 04, 2020

Miss Americana Depicts the Metamorphosis of Taylor Swift's Career and Personal Battles 

(Story)

Dec 12, 2019

December 16th-20th Filled with Festivity at SHS

(Story)

Dec 06, 2019

Model UN: International Edition

(Story)

Dec 04, 2019

Feeling H.A.P.P.Y. at SHS

(Story)

Dec 01, 2019

Euphoric Xtreme: The Future of Sustainable Fashion

(Story)

Nov 11, 2019

Rick Murray Educates SHS Juniors About the Science of Climate Change

(Story)

Nov 07, 2019

Keeping Up With Ms. Lesniak

(Story)

Nov 04, 2019

Midterm and Final Exam Periods Recalibrated at SHS

(Story)

Nov 04, 2019

Senior Night to Senior Morning

(Story)

Jun 09, 2019

Ruth Yasin Retires from Teaching

(Story)

May 16, 2019

Prom Frenzy: Top 10 Stressors

(Story)

May 06, 2019

Coffee Clash: Best Spot in Scituate?

(Story)

Feb 15, 2019

Mad Max: SHS Edition! Junior Stress Sweeps the Streets

(Story)

Feb 06, 2019

Going Red for the Cause

(Story)

Jan 20, 2019

Technology Symposium to be Held on January 23rd

(Story)

Jan 16, 2019

Social Media Controversies Raise Questions of SHS Digital Footprint

(Story)

Jan 15, 2019

The SHS Plague Returns

(Story)

Jan 11, 2019

Keeping up With the Debate Team

(Story)

Jan 03, 2019

Scituate MUN Takes a Bite Out of the Big Apple

(Story)

Dec 21, 2018

If You Build It, They Will Come

(Story)

Nov 15, 2018

The Hate U Give Movie Review

(Story)

May 10, 2018

Keep SHS Start Time at 8:10 a.m.

(Story)