The Hate U Give Movie Review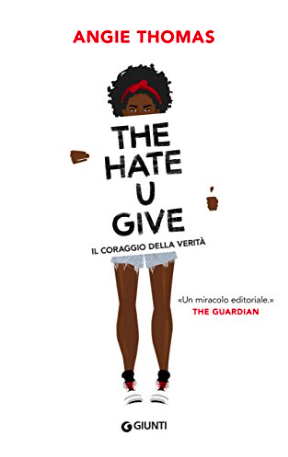 Hang on for a minute...we're trying to find some more stories you might like.
The weekend of October 19th, audiences everywhere rushed to theaters, anticipating the release of "The Hate U Give," the film adaptation of author Angie Thomas's award-winning novel, which was offered to students as a summer reading choice this past summer. Living in Scituate, Massachusetts, a primarily white, Irish community, we often are said to be living in a bubble, a fact that many of us don't realize. Yet, this movie depicts the raw truth of events we see daily in the news around us, events taken place on the basis of race and truthfully depicts the racially based issues we face as a nation today.
The story depicts the life of a young African American girl, Starr Carter, who is living in Garden Heights along with her family: her half-brother Seven, her mother Lisa, her father Maverick or "Big Mav," and her little brother Sekani. Yet, during the school day, Starr lives a double life, hiding her "hood Starr" and becoming "Starr 2.0," going to school at Williamson Prep High School, a primarily white high school in the suburbs. In order to be just another student, she plays on the basketball team, dates her white boyfriend Chris, and truly does whatever she can to be seen as ordinary. Having to live these two lives, Starr struggles to balance the two, feeling as though she needs to hide her true self, remembering not to act "too black" at Williamson or "too white" at home with her family and friends. It isn't until she witnesses the death of her best friend, Khalil, by "Officer One-Fifteen" that Starr not only finds her voice but finds herself. Being the sole witness of the incident, Starr struggles at first to speak out, not knowing if she should or not, risking the backlash that may ensue, or sit back and not allow for justice to be served. As the movie goes on, it shows both the ups and downs of Starr's journey attempting to find her voice.
We see the headlines for victims of brutalities and events, highly disputed by the public: Laquan McDonald, Philando Castile, Michael Brown, Trayvon Martin– all names that came into the spotlight and, just as quickly, fade away. Why? Why do people fight and shortly after, simply give up or shy away from their goal? "The Hate U Give" brilliantly depicts why it is so important to call out for justice and persistently fight, as well as the effect that one person's voice or one person bravery can have on society around them.
Personally, I struggled with trying to find a way to relate to Starr and her situation in this movie, based off of where I live and the experiences I've been through, as many kids around me probably did as well. However, one universal theme throughout the movie is the relevance of the somewhat cliché phrase "your voice matters." Seeing Starr Carter, a girl just as old as myself and my fellow peers, and her ability to cause a movement initiated solely by her own voice and demand for change sets the precedent for generations to come on the importance of one human's voice, and the wave of change that can emerge.