Who Dunnit? SHS Shocked by String of Math Hallway Crimes
Probability class suspected in mysterious kidnappings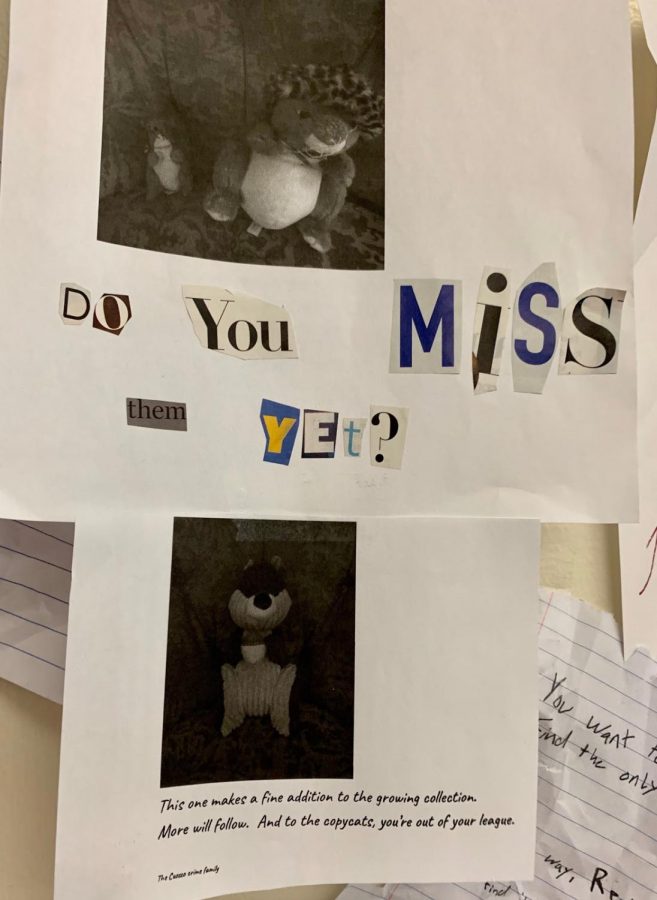 Recently, the SHS community has been shocked to its core following a serious series of kidnappings from SHS math teacher Jamie Forde's room. Known for his collection of stuffed animals (most notably, his fondness for squirrels and other furry creatures), Forde has been severely rattled upon the disappearance of his beloved friends. 
"At this point, I'm missing Chip, my doorstop, Rocky, the super squirrel, Walt, the Christmas bear, Chetty, the chattering chipmunk, Malcolm (a.k.a Reggie) the shark, Veronica and Veronica's hat, Christopher Paul Bacon the pig and now, apparently, we are missing Mario and Luigi, and we're missing Angus and his twin brother Gus, and last but not least, the original, and everyone's favorite, Jasper," explained Forde, seemingly in a state of severe despair. 
In particular, this devastating news has startled Forde's senior math students…or has it?? Forde suspects the kidnappings began as a result of a story he "unfortunately" shared with his B-Block Probability class: 12 years ago, his (now former) students took the original and everyone's favorite, "Jasper." As a result of this, he suspects the current seniors were inspired to do the same. Through an abundance of clues dispersed throughout several ransom notes, Forde has been able to confirm a few suspects from the culprit list–though the possibilities of who committed such crimes are endless.
While the Scituation is currently unable to contact members of the "Cuozzo Family," who signed off on one of the several ransom notes left at Forde's door, we were able to meet with one lone convict who wishes to remain anonymous. 
"We should have gotten extra points," says the anonymous individual, one of the wishes stated in a ransom note, demanding five extra credit points be given to all students in Forde's classes for the safe return of his furry friends. "I wanted ten extra points. But now, the thing I brought back has been stolen again, and I did not steal it," proving the presence of several suspects to be considered.
Will room 221 ever see the return of the animals and posters that have decorated Forde's room for several years? Or will the room remain bare, filled instead with clouds of mystery and curiosity as to who could have committed such a crime?
The probabilities are endless, but only time will tell.