Ruth Yasin Retires from Teaching
Beloved 7th-grade English teacher elevated teaching and learning at Gates Middle School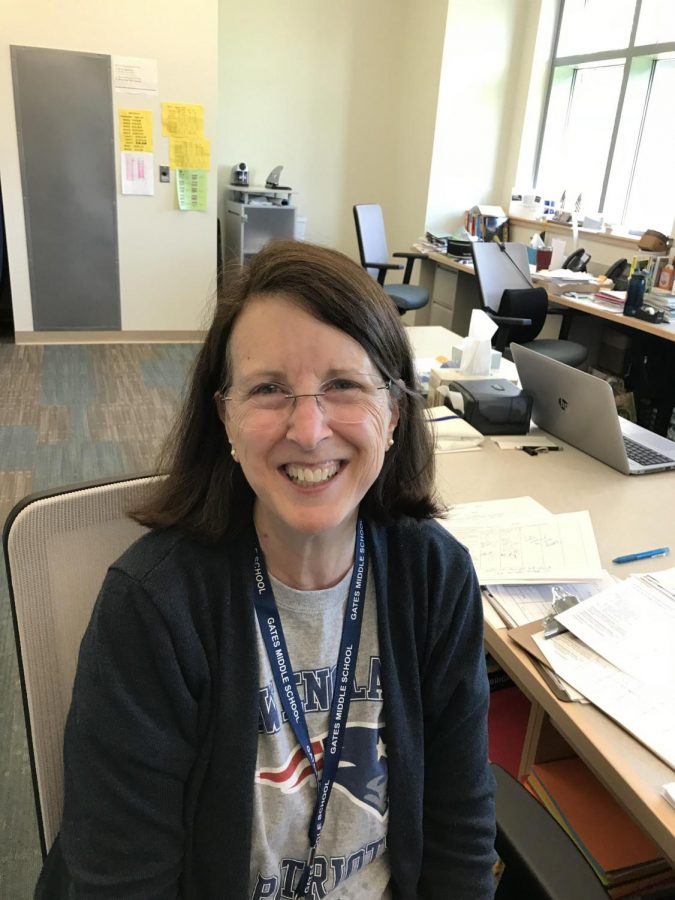 During their 13 years of formal education, students are bound to come across many different types of teachers–the boring ones, the loud ones, the ones who call on you even though your hand was definitely not raised. And, of course, there are those special teachers who make you feel excited to walk into class and learn about any given topic. For many students in the Scituate Public School system, one particular 7th grade English teacher comes to mind: Ruth Yasin. Devoting herself to the personal development and excellence of her students, Yasin has been a committed middle school teacher for nearly 16 years. Possessing the same energetic and youthful character throughout her career, Yasin built countless relationships with her 7th-grade students and her professional colleagues.
Yasin's story of how she became a teacher makes her unique and different. She recalled, "I was a stay-at-home mom for over 20 years as my four children went through the Scituate Schools, and then I started substitute teaching for about three years." After completing a long-term substitute teaching assignment, Yasin came to a revelation–she did not want to leave.
Going on to pursue her Master's degree in teaching and ultimately finding a teaching position at the middle school, Yasin's entire professional career was spent at Gates Middle School. "I like working with young people," said Yasin, "I think it helps keep me young and challenges me."
This determined, selfless attitude garnered respect among Yasin's colleagues. According to Gates Middle School assistant principal Ryan Beattie, "Her work ethic is unmatched." Beattie explained, "She cares immensely about the students in front of her and she knows them–she knows their strengths and their challenges." Collaborating closely with Yasin for the past four years, both as the English department chair and as a middle school administrator, Beattie described working with Yasin as a "treat."
Middle school math teacher Adam Culbert, a long-time colleague of Yasin's, agrees with Beattie. Culbert said Yasin demonstrated incredible teaching skills over the years: "She elevates others around her with her professionalism, optimism, and dedication to her students and colleagues."
Yet, it's not just Yasin's colleagues who appreciated her as a role model. Yasin's youngest son, Rashid Yasin, said he has always looked up to his mom for her patience and diligence in not just her work as a teacher, but in all aspects of her life. When asked about his mother's teaching career, Rashid commented, "She really cares about her students and wants to make sure each crop of 7th graders that comes through her doors every year can succeed."
Although he never had his mom for a teacher, Rashid said he noticed how determined she was to ensure the best for all her students, and, of course, for her own children. Rashid recalled one piece of advice his mother gave him, which he takes to heart: never work too hard. As Rashid pursues his Ph.D. at Vanderbilt University, his mother's advice reminds him of the importance of other, valuable aspects of his life: "Of course, get a good education and career, but moreover to come home and see my family and make sure I was courteous and kind to other people and charitable with my time in helping others," he explained.
So, what's next for Mrs. Yasin? Of course, this is not the end of her journey, but, as Yasin views it, retirement is another beginning: "I don't know if I'll do some part-time work, but I do want to travel more with my husband," she said. Yasin is already planning a trip to Cyprus, among other anticipated destinations.
Yasin also anticipates future opportunities that involve working in a similar, interactive environment in which she can continue her practices as an educator, yet in a different setting. Yasin said she wants to be open to new and exciting changes that will be coming in her life.
Reflecting on her professional career, Yasin said, "Growing and changing–you will never stop. I kept expecting that I would be an adult and I would be 'there,' but there is no 'there.'" Yasin also offered some advice to her students, both past and present: "Let life surprise you. I never expected to become a teacher, and it's been really good for me, just as I have hoped to be good for my students."