Rick Murray Educates SHS Juniors About the Science of Climate Change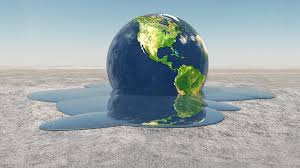 On Thursday, November 7th, 2019, the Scituate High School Junior Class, as well as select students from other grade levels and faculty members, were given the opportunity to attend a presentation from Rick Murray, Deputy Director and Vice President for Research at Woods Hole Oceanographic Institution. Entitled "Climate, Government… and YOU!" the presentation focused on climate change and the environmental problems we as a global community are facing. 
Murray began by discussing how he got involved in his current environmental studies. After graduating from Hamilton College in Clinton, New York, he then attended graduate school in Berkeley, California. Eventually, Murray was working as a professor at Boston University, sharing his love of environmental studies with his students for 27 years. Currently, Murray finds himself working at one of the premier oceanographic institutions in the world, Woods Hole Oceanographic Institution. 
Following a description of his own personal experiences, Murray discussed the current significance of the IPCC, or the Intergovernmental Panel on Climate Change, the United Nations body for assessing the prevalence of climate change today. Murray discussed the significance of the IPCC's findings, and how they have played a crucial role in examining specific dangers caused by climate change. He cited a recent report, "The Ocean and Cryosphere in a Changing Climate."
Following Murray's presentation, many students expressed their concerns about climate change by asking him what they could do to help our planet. Murray responded to these questions by reminding students how important it is for teenagers to be environmentally conscious of how they are impacting the planet, in either a negative or positive way. Most importantly, he urged students not to lose hope–change is always possible in the future. Murray also emphasized small steps students could take–including frequenting restaurants that avoid using styrofoam or avoiding the use of plastic straws and grocery bags–to protect the health of the environment.