December 16th-20th Filled with Festivity at SHS
The Holiday Season is in full swing at SHS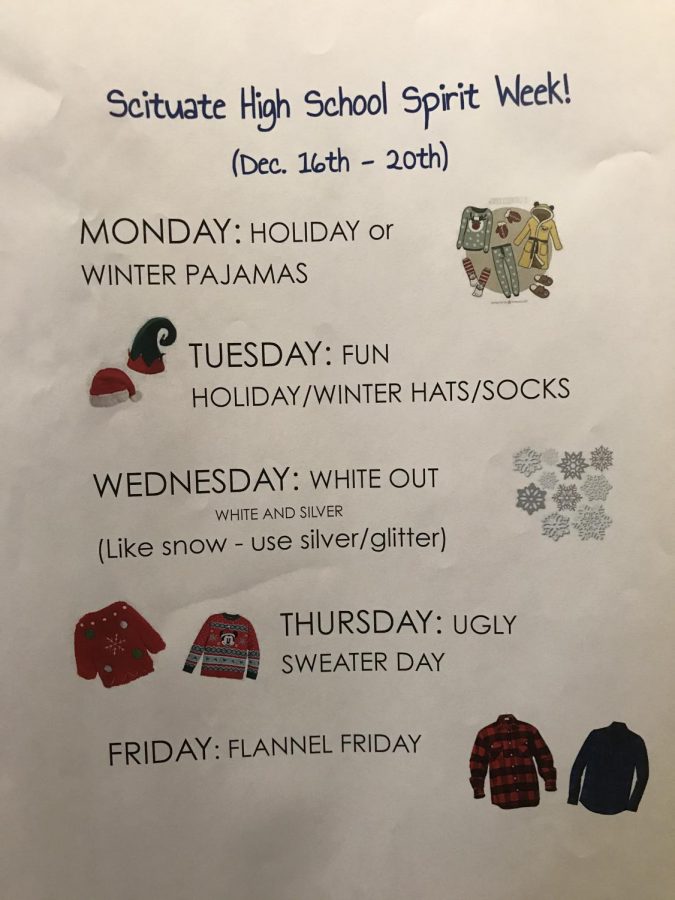 As students at Scituate High School begin to bunker down and prepare for quizzes, tests and projects galore, many have yet to acknowledge the numerous festive events set up over the course of the next week. So, we are here to keep you updated with what's going on around SHS and how YOU can get involved!
Spirit Week
With the holiday season in full swing, many students and faculty alike are anticipating the winter break to spend time with family and friends, and to relax and enjoy some well-deserved time off. SHS's Student Council, led by senior officers Erin Logan, Sarah Lincoln and Katherine Bernier, decided to host a spirit week with scheduled themes to dress up for every day of the week. 
Monday: Holiday/Winter Pajamas
Tuesday: Fun Holiday/Winter Hats/Socks
Wednesday: White Out (like snow– wear white/glitter!)
Thursday: Ugly Sweater Day
Friday: Flannel Friday
Get in the school spirit while wearing some of your coolest holiday gear and by participating in this week long celebration!
Thursday Alumni Meeting:
As many seniors are in the midst of the seemingly never-ending college process–whether they are still applying to colleges, waiting to hear back from their list of schools, or deciding which college on their list will be #1– thinking about what to expect in college can be daunting. Whether it be how to make friends, what to expect academically, or how to get involved around campus, high school students typically have a boatload of questions. To answer these questions, the SHS guidance office sponsors an alumni panel so current juniors and seniors can hear directly from recent SHS graduates and learn about their experiences assimilating to college life. This year's alumni panel will be held on Thursday, December 19th, during C block. Some of Scituate High School's finest alum will be sharing their experiences, offering advice, and fielding questions. This event will take place in the PAC. 
Friday SAIL-abration:
To end this event-filled week, students will participate in our annual "SAILabration," which will take place in the afternoon. Following a shortened-block schedule (posted below), all students and faculty members will be invited down to the Performing Arts Center for a performance by both the Scituate High School band ensemble and chorus group, soon followed by the distribution of awards for both students and faculties awarded for being standout community members, nominated by their fellow peers. Ending the week off, this event is sure to be nothing but a fun-filled event, as it has been in years past!
With so many events to look forward to during the week prior to the holiday break, we hope all students can have a stress-free week while getting involved in the SHS community.
SAILabration Schedule (December 20th)
Day 2
B block
8:15-9:05 a.m.
C block
9:09-9:59 a.m.
D block
10:03-10:53 a.m.
F block
10:57-11:47 a.m.
G block
11:51-1:15 p.m. (Lunch Block)
SAILabration
1:19-2:46 p.m.
The Scituation wishes everyone a happy and peaceful holiday break!