Model UN: International Edition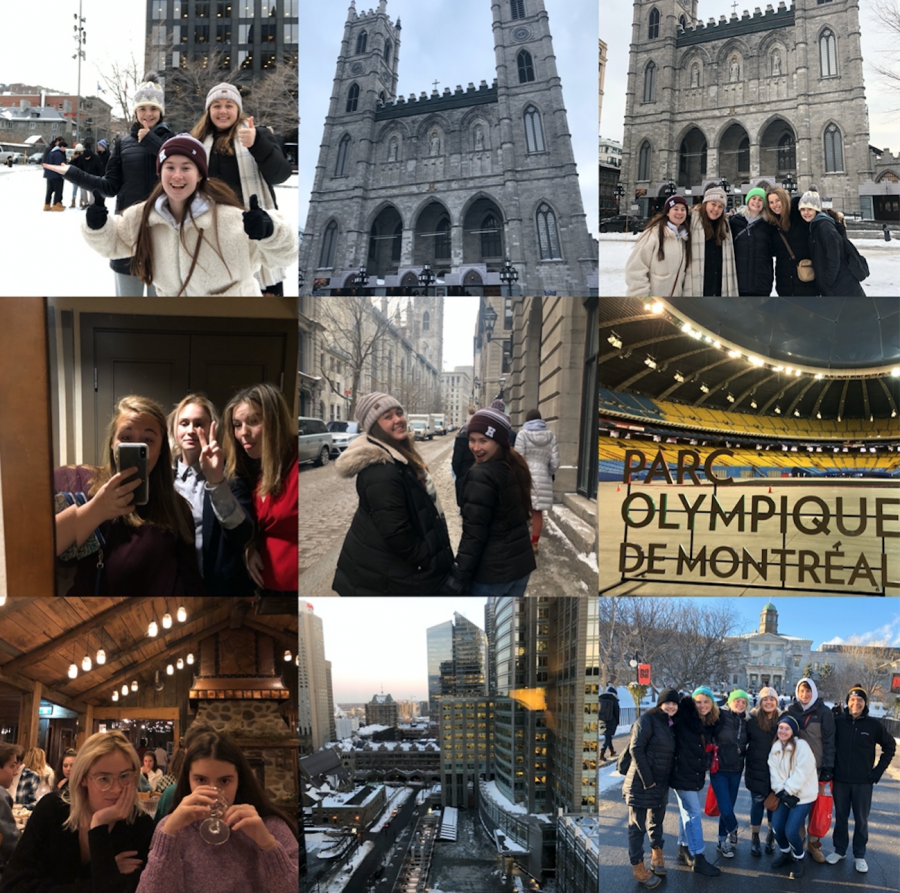 Oh, Canada! 
On November 13th, 30 of Scituate High School's finest students packed onto a bus to make their way up to Montreal, Canada, to take their academic careers to the next level during another thrilling Model United Nations (MUN) trip. (This edition: SSUNS.) 
As we stood outside Scituate High School at 3:30 a.m., the biting cold was almost unbearable. However, our excitement for the coming weekend kept us comforted as we waited for the bus to arrive (which was very late, might I add). When the bus finally arrived, we packed in with passports in hand and the international journey was only beginning. 
The first (and only) pit stop was in Burlington, VT. It would be wrong not to mention our time at Burlington Bagel Bakery; our cinnamon-sugar bagel and bacon egg & cheese were truly some of the best breakfast creations we have ever enjoyed. Was it better than Coffee Corner? Yes. Yes, it was. 
When we finally made it to Montreal, we realized just how much we had underestimated the cold. The temperature was absolutely frigid, and the ice sheeting the streets did not make conditions any better. This did not hold us back though–coming from Massachusetts, us New Englanders are used to the cold. As we persevered through the snow, we made our way to McGill University, the host of the conference we would be attending, for a short, self-guided tour (and of course a quick stop in the bookstore). McGill is truly a beautiful school; the campus stretches over a rolling hill with old architecture that creates a classic college feel. Walking back to the hotel, we stopped for a quick visit at the Barbie Expo, the largest permanent Barbie expo in the world, to take a look at some of the 1,000 one-of-a-kind dolls on display, even stopping for a quick bite to eat.
As the Canadian sun began to set, we hopped back on the bus and traveled deep into the wilderness to get to our next destination: The Sugar Shack. Not only is the Sugar Shack a restaurant, but the log-cabin themed space provides live music and line dancing for its visitors. After enjoying a hearty meal of everything from mashed potatoes to pancakes, we played musical wooden spoons, and even participated in a sweat-inducing dance routine. 
The next day was nothing short of another adventure, as on these trips, you can rarely catch us taking a break and sitting around. En route yet again, we traveled to the 1976 Olympic Stadium, located right within the city, to take a tour of the facilities and travel back in time to a truly iconic event. After touring many of the facilities located in the village, we got the opportunity to travel to the top of the Montreal Tower, the largest inclined tower in the world. From here, we got views of the entire snow-covered city–a truly once in a lifetime sight.
After leaving Olympic Stadium, we traveled to a trendy food-court for lunch, in which we dined on food from Margherita pizzas to homemade gelato. Spending the rest of the afternoon in "Old Montreal," we took pictures in front of Notre Dame Cathedral. After stopping in many of the tourist shops, the crew prepared for opening ceremonies and the commencement of three days of debate and discussion, on topics varying from the International Criminal Police Organization to Daniel Ortega's Council as part of the Sandinista National Liberation Front. 
Being two experienced members of Model UN, with Meaghan having traveled to six conferences and Caroline to four, we have truly seen several types of conferences. We've seen large-scale conferences at the University of California, Berkeley, during our freshman year, which Meaghan attended. We have also attended smaller-scale conferences, like EAGLEMUNC, hosted by Boston College, which we both attended during our sophomore year.
This year, SSUNS truly stood out as being one of our collective favorites. The organization of the conference itself, the level of intellect and involvement from all committee members, and the location of the conference all contributed to a truly unique experience. As we look back on our experiences–from screaming on the bus rides throughout the city, to the acclaimed delegate dance (in which Scituate definitely took the show)–we can truly say this trip was one of a kind: this year's unique group of individuals made for a ton of "MUNFUN."
As we continue with our senior year and take part in our last Model UN conferences, both of us can truly say this club provided many of our best memories from high school. We'll never forget roaming the streets of new cities with our best friends and debating world issues with strangers. Reflecting back on our MUN careers, one of the best decisions we ever made was to join SHS Model UN. We encourage all students–no matter their grade or experience level–to give MUN a shot! 
Follow @scitmunfun on Instagram to stay up to date on our next adventures!