Euphoric Xtreme: The Future of Sustainable Fashion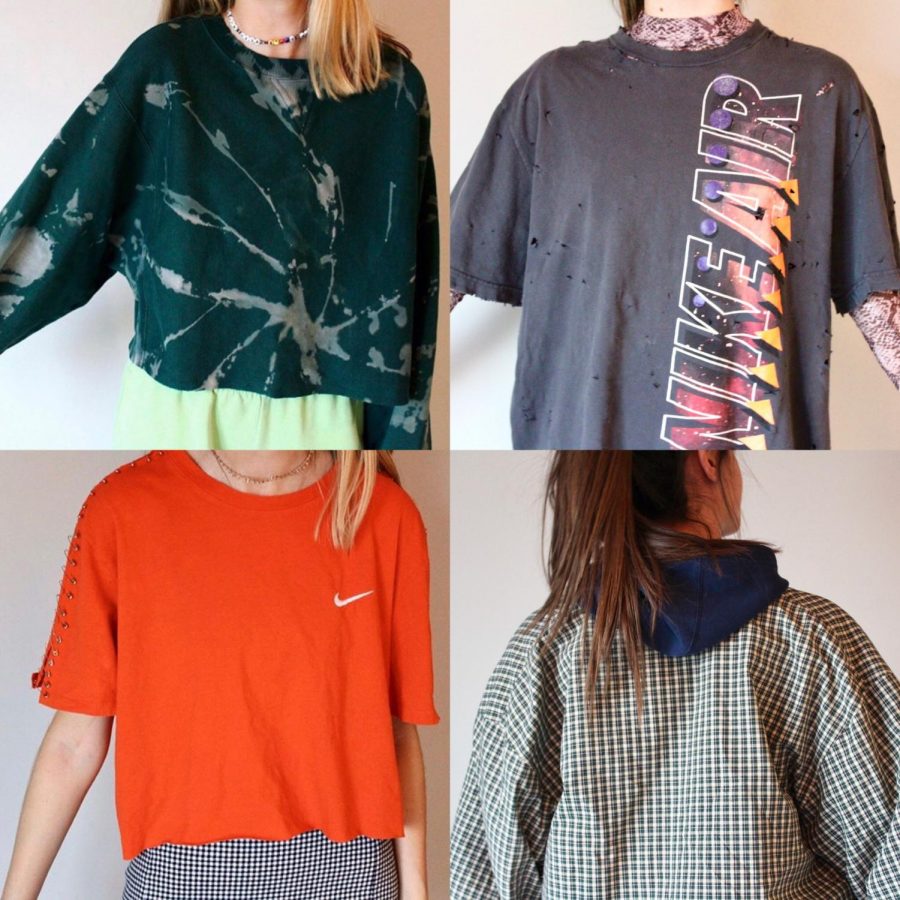 Euphoric: characterized by or feeling intense excitement or happiness. 
Typically associated with feelings of happiness and passion, the word "euphoric" is now associated with unique pieces of clothing and accessories sold by two local high school seniors. Dedicated to making a statement both fashionably and environmentally, "Euphoric Xtreme" is a clothing brand that promotes sustainable fashion.
 Led by Paige Lydon, a senior at Scituate High School, and Lydia Woodgate, a senior at Notre Dame Academy in Hingham, Massachusetts, Euphoric Xtreme puts a new purpose to old clothes and recycles them into works of art. Lydon and Woodgate hope to help the planet stay green by reducing the amount of clothing that ends up in landfills all over the world. 
Having worked in retail, Lydon and Woodgate share a passion for fashion. However, the two knew they wanted to do something more than working for "fast fashion" companies that create cheap clothing through means of mass production, and then sell them for expensive prices.
After viewing fast-fashion production first-hand, Lydon and Woodgate decided it was time to "move on to bigger and better things," as Lydon describes it. Soon, the idea came to Woodgate to start a fashion business. According to Lydon, "One night I received a text from Lydia asking if I wanted to start a business with her, and I pretty much instantly said yes." Within a day, the two of them created an Instagram account to promote and sell their clothing items, and after a week, they had their first, finalized products to sell. 
Nevertheless, Lydon and Woodgate's business project has not been simple. Each day, the two have dedicated multiple hours to dying, sewing, cropping, and repurposing many of the clothing items they find, hoping to create a piece of clothing that can be proudly worn and repurposed. "In less than two weeks we have put out 28 products, and we have been working practically nonstop," says Lydon. She added, "Shout out to bleach for almost killing us."
While being truly laborious at times, the work has already begun to pay off. "Euphoric Xtreme has served as a creative outlet for both of us," says Lydon. "It has been so much fun being able to create products and having people like them and buy them," she added. The two are thankful for the opportunity to get paid for doing what they love: making one-of-a-kind pieces of clothing.
Euphoric Extreme clothes are already popular among many girls on the South Shore, with many pieces being sold to students of Scituate High School. Moving forward, Lydon and Woodgate hope to make this brand a "well-known fashion movement." According to Lydon, "We hope to upcycle clothes that people may not see the potential in. We also hope to expand and reach a bigger audience than just the South Shore." 
Besides building their clothing line, Lydon and Woodgate both anticipate starting college in the fall of 2020. They plan to continue pursuing their passion for fashion and creativity, as Lydon is looking to study Fashion Merchandising and Management, and Woodgate is        
Lydon said she would like to learn more about product research and development and data analytics. "Pretty much my dream job right now is to do data analytics and product research for Nike," says Lydon. (She is currently the proud owner of 7 pairs of Nike shoes, which can be seen in many of her photos on her own personal Instagram, @paige.lydon.)
As for Woodgate, she hopes to study marketing, as she may create her own business out of college. "I hope to spread my unique and exciting sense of style to the world," Woodgate says. She can be seen rocking some of the chicest, most unique styles on her own personal Instagram @lydiawoodgate.
With nearly 30 sales after only a month, "Euphoric Xtreme" is a brand to watch and will no doubt continue to grow and flourish. To keep up-to-date with the brand launches and sales, follow @euphoricxtreme on Instagram and be part of the sustainable movement in fashion that has been spearheaded by Lydon and Woodgate.