Adam Levine Cheating Scandal Rattles Students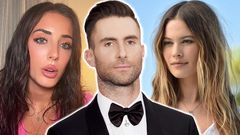 World-renowned pop star Adam Levine recently broke the Internet with reports of multiple cheating allegations. The news broke on Monday, September 19th, when Instagram model Sumner Stroh posted a TikTok claiming she had a year-long affair with Levine. Fans of Levine were heartbroken–especially because Levine and his supermodel wife Behati Prinsloo just announced they are expecting their third child together.
Some fans accused Stroh of fabricating the story for publicity, but Stroh has evidence to back her claims. Using social media, she shared a screenshot of a direct message she received from Levine: "Ok serious question. I'm having another baby and if it's a boy I really want to name it Sumner. Are you ok with that? DEAD SERIOUS."  Screenshots of these "DMs" exploded among the TikTok community and eventually became worldwide news. Once word of these allegations hit Scituate High School students' social media feed, they didn't hold back. 
Natalie Naylor, SHS junior and former Adam Levine fan, proclaimed, "I am devastated and distraught by his actions–but also a little intrigued…" When asked how she thinks the media will react, Naylor stated, "As a prominent Twitter user, I've seen that he has been bashed and dragged through the mud, and I love it." Naylor is just one of the many students who would like to exchange more than a word with Levine. 
Senior Sorina Condon exclaimed, "I honestly thought he was loyal. I saw him and his wife and thought what they had was genuine." Condon also finds it interesting that "beautiful celebrities like Behati Prinsloo and Kloe Kardashian always get cheated on." 
Well, folks, it's clear that if SHS students were the judges of this case, Levine would be deemed guilty.