Ron Griffin selected as the "fit" for Scituate Public Schools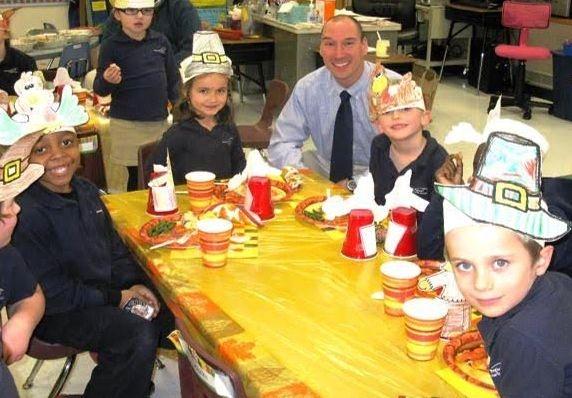 Hang on for a minute...we're trying to find some more stories you might like.
On April 24th, the Scituate School Committee announced Ron Griffin, the current Deputy Director of Foxborough Regional Charter School, as the new superintendent of Scituate Public Schools. A lengthy and thorough interview process brought forward three outstanding finalists: Jill Proulx, Scituate Assistant Superintendent, Andrew Stephens, Duxbury High School Principal, and Ron Griffin. Being selected as the next leader for Scituate schools was "humbling" for Griffin. As an editor for The Scituation, I had the opportunity to visit Griffin in Foxborough and observe what he is like in action.
Ron Griffin, the next superintendent of Scituate Public Schools, describes himself as "energetic, committed, and honest," which is something you are able to recognize after interacting with him for the first time: He oozes passion and excitement in everything he does. Griffin, who has been in his current position for nine years, had no interest in leaving the Foxborough charter school system until a colleague persisted and he read the request for application. After reading it over, Griffin said he couldn't "believe they are looking for someone who loves the things I love to do." Not only does Griffin have a strong background in both STEAM and project-based learning, he has launched multiple schools before and is prepared to aid the school community in the transition to the new middle school building. Griffin was "thrilled" that every person he talked to in Scituate emphasized making decisions based on what's right for the kids, their educational experience, and their future. Griffin said, "That's who I am, and that's when I knew this is right."
While in Foxborough, I had the opportunity to take a tour of the school building with Griffin. Walking the halls, students and faculty swarmed him with greetings and congratulations, emphasizing how "bittersweet" it was to see him move on to another school district. It was evident that Griffin made an effort to be connected with his staff and his students, which must have excited the Scituate School Committee when they made their on-site visit.
Looking forward to next year, Griffin said he is most excited about working with the SPS staff. He does not have a specific agenda yet, saying he wants to work collaboratively and find "great common ground to identify priorities together." He plans on creating relationships with the school community by engaging in plain old conversations. "There's nothing in the world that replaces people just talking face-to-face," said Griffin. He wants students to know he's devoted to their education, but also interested in their lives as a person, saying, "I want to know how it's going. Give me a high five and I want to know what's up." Griffin believes getting face time is important to being a great superintendent, adding, "You have to make tough choices, and you have to realize that those choices affect students and adults, and it's not just dollars and cents on a paper, or numbers on a paper. You need to have some faces in mind."
Griffin was introduced to the importance of education at an early age. His mom was just 16-years-old when he was born, and his parents "worked tremendously hard to instill that education is how you work your way out." Griffin said his parents told him "education is going to be your path to do whatever you want to do in life." Griffin said he takes what he learned from his parents and his childhood and applies it to his career now, saying, "I recognize what it's like to be in need, so that is something that is always in the back of my mind when I think about students."
While attending high school in Fall River, Griffin discovered his love of science and "hands on learning," especially with the help of his 10th grade biology teacher, Bob Taylor. "He got me excited about my education.," Griffin said. Taylor's classroom built a "sense of self-efficacy," which helped ignite Griffin's interest in education. High school was also a time when Griffin built his sense of character and developed his interest in leadership, serving as his class president. Griffin also played multiple sports and participated in extracurriculars like History Club. He said, "I found myself trying to transcend cliques the best I could."
When asked to share his best advice for high school students, Griffin encouraged students to broaden their skills and activities. "Expand your experience set," he said. Griffin added, "Don't just fall into your clique. You can try new skills and new activities and you haven't defined yourself." Griffin said, "The time and energy spent on your schoolwork will pay you dividends that can't possibly be replaced."
Having been a teacher himself, Griffin understands the rewards and difficulties that come with the job. He prides himself on being a teacher who was all about hands-on learning and admires that quality in other teachers. He said, "Someone who's engaging and gets kids excited about what they're learning and someone who inspires — that's the arc of great teachers." Griffin tells new teachers that "kids will look at you like a mirror and reflect back the energy you bring to them from ages 3 to 20." "That's just human nature," he said.
Griffin admires students' curiosity and passion for education, saying, "For kids, the desire and willingness to be part of their education and take ownership of their education is probably the thing I try to instill in every student." Emphasizing responsibility as an important component of educational development, Griffin said, "This is your education, and we're going to help you, but this is yours and you need to own this."