Scituate Baseball Opens the Season With A Win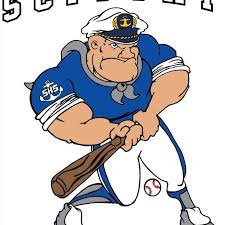 The SHS baseball team had an early exit last year in the first round of the playoffs, despite having some very talented players and being led by veteran seniors Grayden Harris, Ben Whitman, Connor Stone, and Michael Shesky. With Harris and Stone in college, the Sailors have lost some vital talent. However, this year's team has really stepped up to the plate. 
This year's close-knit veteran senior class comprises homerun-hitting machines and shouldn't be taken lightly, despite losing the talented Charles Cawley. The senior powerhouse is now down to six players: Captain Neil Sulivan, Captain Jakob Henderson, Captain Garrett Murphy, Will Grize, Vince Chaisson, and Braeden Killeen, all of whom hit dingers. 
Since their playoff loss last year, the boys have been hungry to get back into the season and prove themselves as a dominant force in Division 2. On Monday, April 3rd, the Sailors went up against the Cohasset Skippers, where the Sailors pulled away quickly with four runs unanswered. Though Cohasset quickly battled back to tie the game. Still, the Sailors prevailed, with Parker Freedman "shutting the door" in the game's last three innings with six strikeouts, resulting in the Sailors' 6-5 triumph over Cohasset. 
The boys showed out with great performances from everyone, such as junior Carter Theriault, who had a double, RBI, and a run. Also, senior captain Garrett Murphy threw five strikeouts during his four innings as pitcher. At bat, Murphy had a double and brought home two of his teammates. Combined with sophomore Ben Caristi's run and captain Jakob Henderson's triple, it was quite the opening day for Scituate. 
Long-time baseball enthusiast and superfan Edson Andrade recently claimed, "I think these freshmen are looking really hot, especially that Jacoby Kingsbury. I can't wait to see him flower into a beautiful ball player." Andrade is excited to see what freshman Brendan Whitman, younger brother of Ben Whitman, can bring to the table, commenting, "I think that dawg is in the Whitman genes."
When asked about his thoughts on the team this year, junior Ayden Lisi said, "You know, man, the boys are really just coming together this season. With our chemistry and grit, we know that no team gets down and dirty like us."
Just from watching a game, fans can feel the overwhelming joy these players have to be out there, and it is truly heartwarming. The team is hoping for a large turnout during their upcoming home game against Plymouth South at 4:00 p.m. on Friday, April 14th,