Senior Profile: Shane Johnston Enjoys his First and Final Year at SHS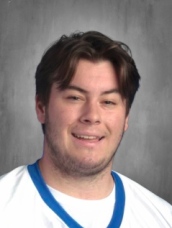 SHS senior Shane Johnston, better known as "Sugar," got his nickname from the famous Lynwood, CA, boxer, Sugar Shane Mosley. Although Johnston is not a boxer, he is known for his skill on the turf as a star football player. He also plays basketball and croquet and runs an ice fishing club. Outside of school, Johnston enjoys playing a challenging game of chess and hanging out with his family's pet dog named Grizzly. Johnston also works at Belsan Bait & Tackle in Scituate Harbor, where he does bait runs.
Although he is a senior, Johnston is new to Scituate High. He previously lived in Bartlett, New Hampshire, where he attended Saint Paul's School in Concord. 
Claiming his hardest class at SHS is Statistics, Johnston said his brain "has a hard time wrapping itself around the statistical part of mathematics." Currently, Johnston's favorite class is Meteorology because SHS science teacher Steve Maguire teaches it, and he enjoys learning about clouds. Johnston said Maguire is his favorite SHS teacher because he is "laid back" and teaches interesting classes like Ornithology and Meteorology.
Johnston's most noticeable leadership position at SHS is taking charge of the student section at the SHS hockey games; however, he believes his biggest accomplishment is making the varsity basketball team after not playing since 8th grade. Commenting that his most memorable moment at Scituate High School was when he hit a 3-point shot in the first varsity basketball game of his life, Johnston said his biggest regret is not attending SHS for the first three years of high school.
In fact, Johnston wants to leave a legacy as the greatest 3-point shooter in the history of SHS basketball. After graduation, he plans to play football at the college level.