The Boys of Fall Playing in February?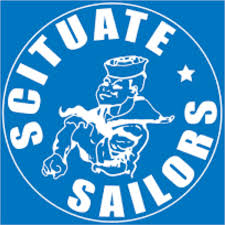 High school sports in New England follow the seasons: Fall is for football, cheerleading, field hockey, and soccer. Hockey and basketball are primarily played in the winter, with baseball, softball, and lacrosse being popular in the spring. Athletes spend the summer resting and preparing themselves for their sport.
Because of Covid-19, many sports are being played in different seasons. This year, football is scheduled to start in late February. The last time the SHS football team faced an opposing team was on Thanksgiving Day of 2019–more than a year ago.
Scituate High School's Athletic Director, Peter Umbrianna, has been in and out of meetings related to upcoming sports seasons. The "Fall II" sports are cheerleading, indoor track, and football, and all plan to begin Monday, February 22nd, 2021; however, no schedule has been created yet. "The Patriot League AD's will be starting to put those together around the end of January," said Umbrianna.
The "Fall I" season–encompassing fall sports played at the beginning of the school year–had strict COVID rules and guidelines to protect athletes, coaches, and fans from spreading the virus. Umbrianna commented, "Yes, I do expect there to be some major changes for all three of our Fall II sports. I do know that the football committee and the track committee have already begun to meet to begin their discussions on what the season could look like & what modifications will have to be made for us to safely participate in those sports."
An MIAA Board of Directors meeting is planned for February 11th, 2021, when modifications for Fall II sports will be discussed and shared with eager sports programs.
Every school in our league is preparing for Fall II by getting through the winter season "as safely as possible," according to Umbrianna. There has been some discussion about including a strength and conditioning program for the Fall II sports at the start of February, but nothing is definite yet.
The MIAA, however, has approved athletes participating in four sports. For example, if an athlete wants to participate in a Fall II sport while also participating in sports during the three other seasons, that option is available.
Unfortunately, there still is a chance of Fall II being canceled. Although Umbrianna is hoping to "get our student-athletes playing sports in the safest way possible," he recognizes that if COVID-19 cases "continue to skyrocket," it isn't guaranteed. He urges everyone to "do our part to follow safety guidelines and stay away from large gatherings outside of school & on the weekends if we want to have a Fall II season!"
Umbrianna and other ADs alike have been doing their best to keep every athlete, coach, and family safe throughout this pandemic: "All of this put together with the final goal being getting our Fall II athletes participating in sports come end of February," Umbrianna explained. Junior captain of the football team a star wide receiver Keegan Sullivan is very positive and excited to get back on the field and "just playing." Sullivan said, "We've had to wait quite a while, and nothing is like playing under the lights on Friday Nights." He added, "We have been able to have team workouts and then workout alone. We've also been able to hit the field and go over plays and get timing down on them."
Even with a pandemic getting in the way, the Sailors are ready for a successful season of high school football. With the team losing starters from last year, #21 (Sullivan) is confident that those spots will be filled by players who have worked hard during the long, difficult offseason.
Similarly, junior Andrew Bossey is more than excited for the season to start. Willing to do whatever it takes to be on that field, Bossey claims that "anything is better than nothing, even if it's just a few games or whatever the rules are." Working hard, just like everyone else on the team, the soon-to-be star running back makes his best effort to put in the work whenever he has time. Whether it's lifting or even just throwing the ball around, Bossey can't stop and won't stop the amount of hard work he is putting in as we are going into the season.
Not only is #11 (Bossey) excited for playing under the lights, but he's also excited for "all of it, really!" Bossey explained: "You kinda take the smaller stuff for granted when it all can easily get taken away. Obviously, like the games and the touchdowns, but the practices and team dinners and film is almost as much."
Sophomore offensive lineman Danny Thompson is prepared for anything. As soon as the Sailors beat the Hingham Harbormen 27-14 on Thanksgiving Day in 2019, Thompson went home, ate a few plates full of turkey dinner and immediately started working toward the next season by "lifting, running, watching tons of films from last year and people we are going to play, and watching interviews with NFL and college players to see what they do." Thompson said he is eager to show his hard work on the line of scrimmage.
Due to the number of Covid cases rising, the team workouts and practices have been canceled until further notice. Sullivan did say that practices will be back when the season starts, but team workouts will hopefully begin earlier.
From the beginning of the six-month lockdown, players have missed out on their favorite team bonding experiences: equipment pickup, a four-day camp at Marshfield High, the first day of practice, the walk through the day before a game, team dinners, wearing jerseys to school, walking into the locker room and getting ready, team meetings before a game, running onto the field, playing under the lights on Friday night, blasting music and dancing in the locker room after a win, watching game film, "Tuesday Bruise Day," Thanksgiving, and of course, being together.
On a cold Friday night in March, those lights will turn on, and the Scituate Sailors will finally have the opportunity to buckle up their helmets, strap on their shoulder pads, and wear the jerseys that represent their town and their high school.