Senior Fall: The Unfortunate Reality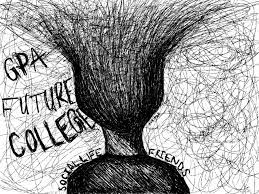 Senior year is the year students have anticipated since their first day of kindergarten. Whether it's senior sunrise, senior athletic nights, senior privileges, senior spirit weeks, or the last day of classes, students can collectively agree that senior year provides various excitements. These activities hide the inevitable stress that seniors face. Seniors typically are blindsided during their senior year as they realize that fun activities are accompanied by endless stresses of future plans, balancing school work, college applications, and the never-ending question:  "What are your plans for next year?"
The college application process is a major component of students' work and stress load. Senior Katherine McCarthy has felt completely overwhelmed after quickly realizing the impact the college application process would have on her daily routine. Expecting emotions of joy to define her senior year, she has instead been bombarded with stress as she questions how she can successfully manage her typical workload with the college application responsibilities.
McCarthy is a member of the varsity soccer team, which consumes a majority of her time outside of school. Before the college application season, McCarthy was able to balance her student-athlete life. Although she knew applying for college would be time-consuming, she finds it "nearly impossible" to balance her workload and extracurricular activities. McCarthy explained, "I have soccer and babysitting every day, leaving little time for me to do homework and college applications." Consequently, she feels "constantly stressed out and tired with the constant cycle of keeping up with my work." McCarthy said, "This fall my whole life revolves around the stress of college applications."
Senior Bridget Thompson, captain of the varsity volleyball team, has been able to balance her packed schedule throughout her high school experience, but this year she has felt a similar to McCarthy. The stress of college applications adds an overwhelming weight to her shoulders. Thompson explained, "My biggest stressor is not being able to get my homework done after getting home from a volleyball game that goes as late as 8:30." Thompson finds herself constantly thinking about college applications, her personal essay, and supplemental essays during her day, distracting her from her passions.
Senior Kelly Theriault is among many SHS students who hold more than one job. As a babysitter and an employee of the Rivershed, Theriault's afterschool schedule is tight. Like many others, Theriault is also in the midst of the college application process. Saying she is "constantly stressed" about her college applications as well as her homework, Theriault always worries about the next assignment or the next supplemental essay she needs to complete. This fall, her work ethic has become undermined by the effects of balancing a heavy workload. 
Senior year is a time for seniors to come together as a class, celebrate their accomplishments, and reflect on their lives. The unfortunate reality is that most college-bound seniors are too stressed to focus on the fun of senior year. In order for many students to complete their journey as a high school student, they must endure the stress of senior fall. Although all seniors have varying amounts of stress and responsibilities, all can agree that graduation day will be the most rewarding day.