Why Should You Take the Coronavirus Seriously? 
Help prevent the pandemic from getting worse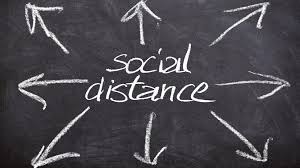 It is well known by now that across the globe, the Coronavirus has affected thousands among thousands of people. Beginning in Wuhan, China, it is believed that the virus began in a 'wet market' which sold live and dead animals. The densely populated area and the lack of hygiene standards could have contributed to this virus spreading to humans.  
 In the United States, President Donald Trump declared a national emergency on March 13th, showing a dramatic shift from his careless attitude toward the crisis. However, at this point, he is hesitant to go into a mandatory state of quarantine. What he is failing to recognize is the importance of social distancing to prevent the spread of this pandemic. In Italy, social distancing is required for the number of deaths to decline. The virus caused almost 200 deaths in Italy on Wednesday, March 11th, alone. If Trump had any intuition, he would see the importance of enacting strict social regulations to save lives. His "suggestions," on the other hand, are not strong enough to combat this virus. 
As of March 17th, there are 5,000+ cases of the Coronavirus in the United States with 93 deaths. Trump issued guidelines that called for gatherings to be no more than 10 people for the next 15 days. But considering the virus' trends in China as well as Italy, it's certain this will not be slowing down anytime soon, so Trump needs to have clear and level-headed actions for the prevention of more cases. 
Massachusetts Governor Charlie Baker declared a state of emergency on March 10th. Five days later, he ordered a three-week suspension of all elementary and secondary schools, limited gatherings up to 25 people, and closed all restaurants and bars for on-site food consumption until April 7th.
The US has also shown major delays in Coronavirus testing. Recent data shows that only 125 per one million people have been tested for the virus–lower than most other countries. South Korea has made testing a priority to slow the spread of the virus, allowing 10,000 people to be tested a day. Federal officials in the U.S. say they are planning to set up drive-through testing stations throughout the country, but this delayed response will have major consequences on the health of the public. If the Trump administration had officials in place to prepare for pandemics like the Coronavirus, the nation may not be in such a state of distress. 
Unfortunately, public health officials are working on a vaccine to be ready in a year or 18 months. This is why social distancing is important if we want to decrease the spread of this detrimental virus. Although it may be tempting to hang out with friends during this break from school, the sole purpose of having a 'break from school,' is to prevent the potential transmissions from person to person. 
Going into a state of isolation can seem scary and out of the norm, but it is vital for people to listen to these standards in hopes that we can overcome this virus before 2021. Symptoms of the Coronavirus are also not always expressed, meaning a person can asymptomatic–allowing them to unknowingly spread this virus to those with vulnerable health conditions or those who are older. This makes social distancing even more important to prevent those we love and care about from getting sick. 
The Coronavirus gives us all an opportunity to connect with ourselves and the nature around us. Read a book. Binge a TV show. Go on a walk. Spend some time with your family. Now is not the time to have a vacation or socialize with friends. It is the time to use your greatest power to prevent this pandemic from getting worse. Stay home.