Fields Project is a Positive Step Toward Equity
Title IX Compliance is Overdue in Scituate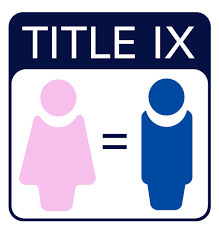 Caroline Naylor, Contributing Writer
May 12, 2019
Over February break, an annual tournament goes on at Hobomock Arenas in Pembroke. Four teams play to win the "Gould Tournament." Two athletes, one from each team in the championship game, receive the MVP award and scholarship money. Rightfully, you'd think the MVP from each team would get the same amount of money. Why wouldn't they? Aren't they playing the same sport?
Weeks later, I realized the male MVP of the winning team gets $1000, and the female gets $500.
When I read this on the little fine print on the back of the brochure, I didn't know what to say. "It doesn't even make sense," I thought. What would make the rink think to give girls $500 dollars less than the boys? We're playing the same sport, doing the same thing, and skating on the same ice.
2018 and 2019 have been two really important years of acceptance and equality, further changing societal norms regarding what is right and wrong. However, the world still needs to work on accepting and understanding that women are equal to men–whether in sports, occupations, or society.  
According to Hope Solo, an American goalkeeper for the United States women's soccer team, "We are the best in the world, have three World Cup championships, four Olympic championships, and the men get paid more to just show up than we get paid to win major championships." Hope Solo recognizes the inequality between men and women in sports and how her team won world championships and still got paid less than men. 
In America, around 40% of athletes are women. Women's sports have made major progress since 1972, after Title IX was passed, prohibiting gender discrimination. Yet only around 6-8% of the media covers their games and matches. Only 3-5% of all women's sports stories are covered in the top four major newspapers. Women's sports are clearly underrepresented in the media. 
Some argue that women's sports are "boring to watch" and "less interesting than men's sports." Many believe that men's sports are more enjoyable because they are "more aggressive, stronger and taller." So, the media is just providing viewers with they want to see. This mindset leads into a never-ending cycle: the media doesn't broadcast any women's games, and then fewer people care, know about, or follow the games.
On the flip side, Women's World Cup final was the most watched soccer game, out of men and women, with around 25 million viewers.
In English class, we read a play called "Fences."  The main character, Troy, wanted to become a professional baseball player, but he felt robbed of this dream because of his race. As a black man in the 1950's, Troy had the same talent and drive as the white men who were able to play. Similarly, this situation is how many girls and women feel today. Although it isn't the color of their skin that matters, it's their gender that inhibits them from being seen as equal to men.
I've felt the same sort of frustration and anger.
During my freshman year, I had to walk to Central Field every day after school for soccer practice, a 1.5-mile walk BEFORE practice. Meanwhile, the boys' team practiced on the backfield of the high school campus.
Every year my hockey team has games immediately after the boys' games. During the final period of the boys' game, the girls' hockey team heads into the locker room. By the time we come out, 20 minutes later, the whole student section is empty.
Last year, the boys' freshman football team got priority over our JV girls' soccer team; they got the turf while we got kicked to the backfield.
These are a few times I've experienced injustice, but thousands of female athletes who have gone through Scituate High School for the past 46 years have experienced this injustice as well. It is time for Scituate High School to follow the federal law of Title IX. 
Some girls play sports because they love the game. Some girls play because it's what they grew up with. Some girls play sports to exercise. Some girls play sports to make friends and feel a part of something. No matter the reason, girls sports deserve equal recognition, equal scholarships, and equal respect.
During the next academic year, Scituate High School's fields are getting completely redone. More fields are being added, and the turf is getting redone. After 46 years of Title IX, the girls' teams finally won't have to walk to Central Field anymore. Or get kicked off the turf for the boys. This will be an inconvenience.  Games will be off campus, and there will be a lot of construction. But we owe it to the 46 years worth of SHS athletes who experienced the injustice of being discriminated against because they were women.
There won't be any more "Oh, they'll figure it out" or "They can walk." We owe it to ourselves, the community, and athletes of the past to deal with this inconvenience. It will be one year's worth of rebuilding to create a future of equality and justice for women's sports in Scituate.