SHS hosts first ever South Shore DECA Lifeskills Vocational Showcase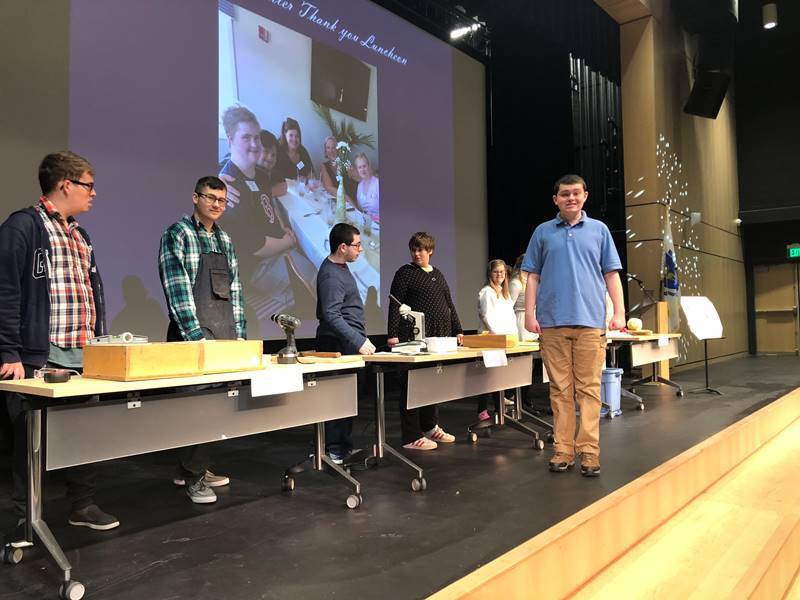 Wednesday, January 8th, brought a unique opportunity to SHS. All students of the school had the opportunity to see the regional iExcel DECA event in the Performing Arts Center. The lively crowd was compiled of regular students as well as athletes from the fall sports teams headed by the football and soccer players of the past season. 
The local conference provided an easy solution following the change in location of the DECA conference that Scituate usually attends. The conference at SHS consisted of three local high schools- Scituate, Whitman Hanson as well as Pembroke who was participating in their program's first DECA conference. 
Scituate kicked off the event as the hosts to the roar of a cheering home crowd with their adaptation of usual job experiences at the New England Wildlife Center in Weymouth. Kevin Pendergast narrated while students reenacted daily jobs that may be performed by interns at the center. Scituate was awarded the most unique skit for their adaptation to the delight of the crowd who rewarded the students with a standing ovation as they received the award. 
Whitman-Hanson followed by performing a skit on the expected customer service at Walmart. Two students acted as shoppers while other students acted as the various jobs throughout the store such as the Greeter, Cashier, as well as other store workers. Narrated by two other students, the entire script was written by the students which won them best narrated during the awards. 
Pembroke, in their first appearance at a DECA competition, reenacted an average day at their school cafe. Different stations were set up to represent the counter, the cashier, and greeters. Students and teachers represented the customers who ordered and were checked out by the students. For their work, Pembroke received the award for the most detailed presentation.
The conference closed with a brunch for the competitors and select members of the audience. The competition was well received by administrators and audience members alike. Scituate students described the opportunity as "wholesome" and "an awesome way to give back." Loud cheers of support filled the room after each skit and award. Although it is unclear whether the competition will return to SHS in the future, it provided a fun and unique way to support a program that has does so much for the community.