SHS Student Leaders Hone Their Skills Through Project 351
Ayanna Pressley is a featured speaker at this year's Launch Day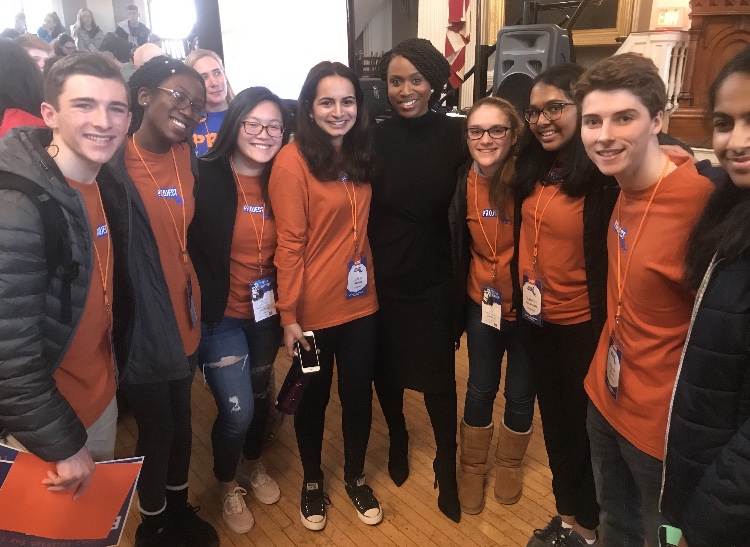 Project 351 is a youth-led nonprofit organization that engages unsung heroes from each of Massachusetts 351 towns.  It was founded by Carolyn Casey and introduced by Governor Deval Patrick in 2011 in order to facilitate community service for eighth graders and bring together one child from every middle school in Massachusetts to serve throughout the state. The student gets nominated by a teacher in the community through a confidential and blind nomination process.
The eighth graders are first introduced to Project 351 on Launch Day, which is held the weekend of Martin Luther King Jr. Day. On this day, all of the new ambassadors are bussed into Boston, and they meet in Faneuil Hall. There, the governor and other speakers address the new ambassadors. Next, the ambassadors are put into their Service Hero Teams, which are led by alumni.
After their year as an eighth-grade ambassador, students have the opportunity to apply for a spot as an alumnus to continue in the organization. Currently, three students at Scituate High School are members of the Alumni Leadership Team of this organization. Hundreds of MA high school students apply for this opportunity; however, only 150 students are selected by the Project 351 selection board. SHS Senior Janhvi Trehan is a member of the Senior Leadership Corps (SLC), which has an overarching role in the organization, doing different aspects of outreach.  Junior Erin Logan is a part of the Alumni Mentoring Corps (AMC), which requires leading a team of 8-10 eighth grade ambassadors through their ambassador year. Freshman Jeremy Guyette is on the Regional Unity Corps (RUC), which creates events to pull together all members of Project 351 in each of the 15 different regions around the state.
Project 351 has been connected with organizations such as Cradles to Crayons, and have had Ambassadors collect clothing and book donations that have resulted in thousands of children impacted. Although there are so many positive benefits to the outside community, there are also many within the organization.  When asked about her favorite aspects of the organization, Logan said, "The things that I get to do with it, the friendships that I have from it, and getting to help ambassadors adjust to it and see them grow so much from their Launch Day to our Summit in May." Trehan agreed by saying her favorite part is simply "the people."  Guyette added on saying that he believes that Project 351 is "a great experience and it teaches you great leadership skills." Project 351 is a low profile organization with some high positive effects on the community.
This year's Launch Day was held on Saturday, January 19th, in Faneuil Hall in Boston. The day included speakers such as Governor Charlie Baker and Congresswoman Ayanna Pressley who shared wisdom on contemporary service and leadership. Ambassadors were then able to serve at five service sites around Boston, including Greater Boston Food Bank, Pine Street Inn, and Cradles to Crayons. The day finished up back at Faneuil Hall, as the usual evening celebration location was closed. (The JFK Presidential Library and Museum, which typically hosts this event, was not available due to the partial government shutdown.) Over 19,851 Massachusetts neighbors were impacted by Service on Launch Day, and 351 new Ambassadors were given the inspiration and tools to continue giving back in their hometowns.