Eva Goldthwaite's Experience at DECA Competition Fuels Her Spirit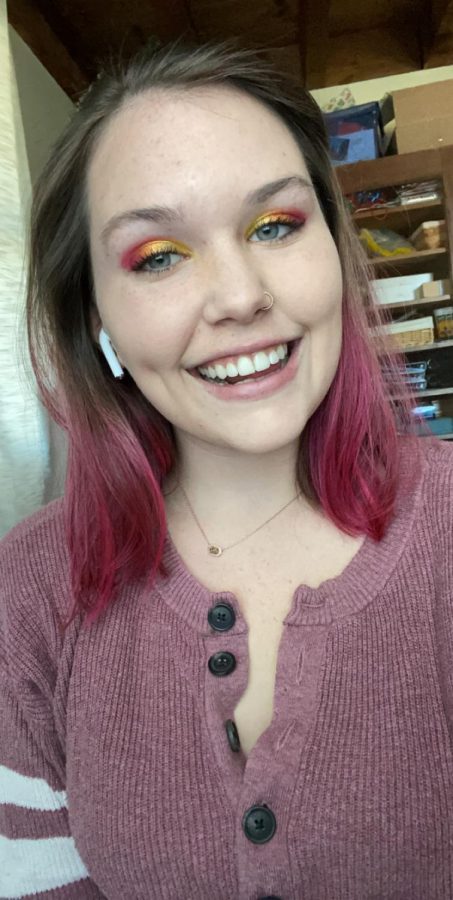 Scituate High school offers many extracurricular activities for students. One of those is DECA, the Distributive Education Clubs of America. As a non-profit career and technical student organization, DECA has more than 228,000 members from all 50 states, Washington, D.C., Canada, China, Germany, Guam, Mexico, Puerto Rico, and Spain. At SHS, DECA has been one of the more popular clubs, and in December of 2019, over 10 students qualified for the state competition, which took place at the Boston Marriott Copley Place. One of the competitors was SHS senior Eva Goldthwaite, who was eager to present her business proposal to the judges. 
Goldthwaite designed her own business, Inclusive Cosmetics, which is a line of cruelty-free eyeshadows that include LGBTQ+ colors. For example, one palette includes all the colors on the transgender flags. According to Goldthwaite, "I make eyeshadow that is dedicated to ending discrimination in the beauty industry, and all the ingredients are safe and non-toxic and FDA approved." Goldthwaite added that she doesn't use Photoshop or digital alterations to present her products or product models. 
Usually, DECA competition projects are theoretical business plans; however, this year, Goldthwaite's project was an actual business, a real product she produces and wears. Excited to present her business plan to the judges at the competition, Goldthwaite even aspired to take her idea to the next level, DECA's national competition in Nashville. Unfortunately, when her time came to present, Goldthwaite was very disappointed by the response from her individual judge. 
During Goldthwaite's presentation, the judge assigned to her project began interrupting her about the product and the validity of her sources–including the fact that her products were FDA approved. This is against the competition's guidelines, which state every presenter should have an equal opportunity to present with no interruptions. Goldthwaite said she couldn't help but feel like she was being treated differently because of the social justice message associated with her products. In fact, she felt the judge took into account his own personal views of the LGBTQ+ community.
Despite her judge's response, Goldthwaite went into the DECA award ceremony very confident. Describing the countless hours she dedicated to the presentation of her project, Goldthwaite said, "I have had to cancel plans with friends because I was working on it so hard." For Goldthwaite, this business proposal was not just an academic project–it's an entrepreneurial opportunity she hopes to pursue in the future. 
When Goldthwaite's name was called during the award ceremony, she felt extremely cheated and upset. Inclusive Cosmetics was given one of the lowest scores at the competition (second-to-last place out of nearly 40 competitors), indicating Goldthwaite's work had "little to no value," falling "below expectations" for every single category. DECA competitors who scored similarly to Goldthwaite were given feedback explaining why they scored low. However, Goldthwaite's judge did not leave any feedback for her. Feeling certain there was foul play in the scoring decision, Goldthwaite worked with her SHS business teacher, Ross Maki, and wrote emails to DECA with hopes for a review or reversal of the judge's decision.  
DECA responded to Goldthwaite's concerns by selecting another judge to assess the written component of her project. This significantly improved her score; however, the new judge was not able to assess her physical display, her presentation, or her passion. Goldthwaite remains disappointed with the DECA organization, but she knows this experience fuels her to work harder to make Inclusive Cosmetics a reality. She commented, "With a business fighting for equality, I expect to continue facing discrimination, but what matters is how I choose to see it."  Goldthwaite said, "I can let it discourage me and tear me down—which is what they want—or I can let it inspire me to fight harder for my beliefs." 
Looking forward to her college experience, Goldthwaite plans to attend the Close School of Entrepreneurship at Drexel University in Philadelphia, Pennsylvania. As a student in the STAR Scholars program, Goldthwaite is excited to spend the summer working alongside entrepreneurs and consulting with small businesses while continuing to develop her own cosmetics line. As she continues her fight for social justice, Goldthwaite commented, "What the world really needs right now is more young warriors."