SHS Drama Club Performs at Historic Adams Estate
Students prepare for November's performance of 1776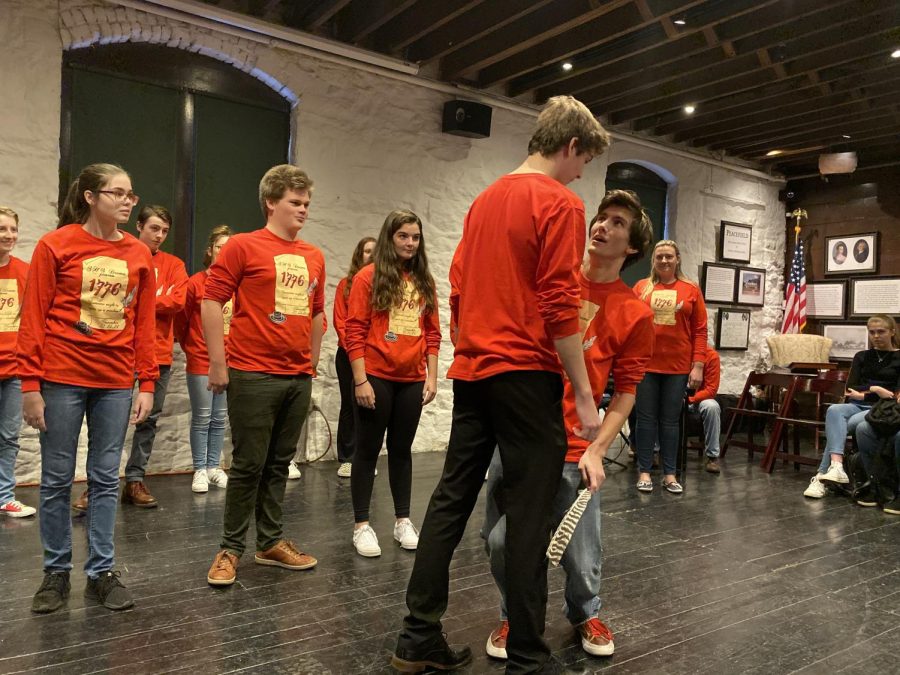 The Continental Congress was not known for their acting chops. But during Scituate High School Drama Club's performance of excerpts from "1776," they brought an artistic light to the Founding Fathers of our nation. 
The club took a field trip to the Adams Estate preceding the performance, where they had the opportunity to see John Adams's birth house, law office, and the estate where he resided until his death in 1826. 
"It gives them a deeper insight into their characters," Matt Maggio, co-director said. "We're performing where John and Abigail actually lived." 
Christina Maggio, co-director, said the "realness and truth" that the cast exhibited could only be brought by the knowledge they have learned. "We have so much talent," she added, "and this is a pretty challenging piece." Both directors are very impressed with their cast, especially since they haven't fully memorized their lines yet. 
The musical, which highlights the creation and signing of the Declaration of Independence, revolves around John Adams, played by senior Hayden Startzell, Thomas Jefferson, played by junior Duncan McConaughey, and Benjamin Franklin, played by senior Kyle Moon. 
The notable song, "But Mr. Adams," shows John Adams as he tries to convince multiple people in Congress to write the Declaration of Independence for him, because, as he says, he is "obnoxious and disliked."
The musical is filled with humor and heartfelt songs like "He Plays the Violin" and "Yours, Yours, Yours," which depict the wives of Jefferson and Adams and their love and tolerance as they wait for their husbands to return. Martha Jefferson is played by freshman Caitlin Bruscino, and Abigail Adams is played by senior Aurora Avallone. 
The full performance of the musical will be performed on November 22nd, 23rd, and 24th in the Performing Arts Center. Performances begin at 7:00 p.m. on Friday and Saturday. Sunday's performance begins at 2:00 p.m. Admission is $12 for adults and $10 for students and children. 
Follow @scituatehighdrama on Instagram for updates.