DuBois Believes in the Quell Foundation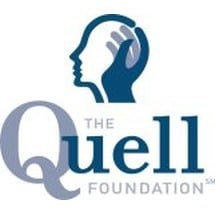 Mental health is an important topic, a topic that can't go unnoticed. Mental health affects teens worldwide. Not all teens affected by depression, anxiety, PTSD, and OCD seek the help they need or have the support system they want. The Quell Foundation is the support system for those affected worldwide. The Foundation's mission is to reduce the number of suicides, overdoses, and incarcerations of people with mental health illness by promoting open, judgment-free dialogue, and working to shatter the stigma mental illness holds.
Kevin Lynch, the founder of the Quell Foundation, formed the foundation because he believes the people have the power to change the conversations about mental health. In 2012, Lynch's 26-year-old son was released from a high-security prison where he served six years due to behaviors caused by his mental illness. After trying to get his son's life back on track, things took a turn for the worse when his son turned to heroin. After his son returned to prison, depression began to find its way back into Lynch's life, but he did not let his struggles control him. "I believe we have a social and moral obligation to act. As a society, we must help this population of people who often cannot advocate for themselves" (Quell Foundation).
The Quell Foundation is not just inspiring to millions of Americans, but also Scituate High School junior Brooke DuBois. The DuBois family connections with Lynch have made the impact of the foundation more important. Three years ago, DuBois started running the Falmouth Road Race for the Quell Foundation. Each year she raises money for the foundation. "This year I raised just under 2,000 for the Road Race, but I raised $8,000 in total," she said. DuBois is thankful for the opportunity to be able to help support a great cause that hits close to home for her family.
In November, The Quell Foundation hosted their annual Masquerade Ball. The motive of the ball is to lift the mask on Mental Health and remove the stigma. "This year  I had the opportunity to speak at it and discuss the stress on teens, a topic I am passionate about," said DuBois. Not only did DuBois present a speech, but she was also the first-ever recipient of the Achievement Award. DuBois received this award due to her hard work in raising money and her continuous efforts toward the Quell Foundation. "If you can conquer the mind you can conquer anything," DuBois said as she closed her speech. DuBois also said she is passionate about conquering the stigma of Social Media: "This topic has been something I am passionate about and something most students are passionate about, and it wasn't something I could answer in an organized way it is interesting to get peoples opinions and figure out what the true causes of it are, and listen to other peoples stories after and see the effects."