"Last Seen" Will Capture Your Imagination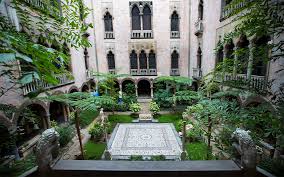 On the weekend of Saint Patrick's Day in 1990, the biggest art heist in history was executed in Boston at the Isabella Stewart Gardner Museum. So why, 30 years later, is it still being talked about with so much excitement?
In September of 2018, WBUR and the Boston Globe released a podcast, "Last Seen," that answers this question and many more. It "truly assesses all possibilities with such detail you feel as though you are solving the case," said Nicole, a dedicated listener to Last Seen. And whether you are listening while driving, exercising, falling asleep, or walking around the museum, the podcast truly does draw you in.
With so many theories about who stole the priceless art, it is easy for the ones with the most evidence to get lost. Word of mouth is typically not an option, as many people are required to keep such information private. But "Last Seen" has broken the privacy of the case and left its secrets exposed to anyone who will listen–and it's hard not to. Ten minutes into the first episode is truly the "beginning of a fast 15 hours" said Linda, another listener. The podcast features many important people in the case, including suspects, leaders, cops, and investigators who have never spoken publicly about the situation before. The interviews are haunting; consequently, listening to their details feels like a crime in itself. 
"Last Seen" isn't just for those who are interested in the case–it also appeals to conspiracy theorists. Its first episode, titled "81 Minutes," describes the robbery in-depth and what the police and FBI were able to gather the next morning. The first episode "sets the stage perfectly for all the theories to follow," Natalie, a new listener, said. And the rabbit hole is just as deep for new listeners like Natalie. Not even a week after her first episode, she had listened to the podcast twice more and visited the museum.
Listening to the podcast is a truly riveting experience: The story is so brought to life that it forces viewers to the crime scene. Seeing the art–or empty frames–becomes extremely emotional. A dark and disguising feeling builds in your stomach and just sits there. As you look at the empty frames, you wonder who was there and why they stole the art. Who walked the same halls for 81 minutes on March 18, 1990? Where is the sought-after art now? Why didn't the robbers feel as guilty as you do seeing the pieces slip away and vanish from history forever? All of these unanswered questions become so intense and embedded in your thoughts during episode after episode. The podcast, to say the least, is unbelievable.