Cheerleading Deserves Respect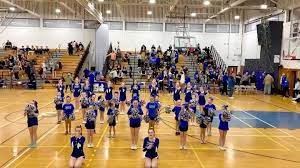 At any given SHS football or basketball home game, you will see a large group of girls on the sidelines–cheering, performing stunts, and engaging the crowd. You will see posters around the school supporting players, and before the Thanksgiving game, you might even see houses decorated. However, this is not all that cheerleading is; as Captain and SHS junior Val McNeilly explained, cheerleaders are "seen as the football team's sidekick," instead of an independent, competitive team.
Though separate, the cheerleading and football teams are closely tied, which presents some challenges. As McNeilly points out, cheerleaders can at times be upset due to the "lack of funding for the cheerleaders" in comparison to the football team. Additionally, football players sometimes do not "appreciate what the cheerleaders do for them." Fellow cheerleading captain Lauren Babb agrees with McNeilly, stating that football players appreciate cheerleaders' work "for the most part" but also points to "poor treatment from individual players in the past," referencing degrading jokes and "shaming" from football players. Fortunately, McNeilly believes these issues have been improving in recent years. She pointed out that coaches have been "teaching" football players how to "respect cheerleaders," and that cheerleading's reputation as a serious sport has been growing.
As SHS cheerleading coach Sheila Mahoney noted, "There will always be people who believe cheerleading is not a sport," despite seemingly fitting all the criteria: physically demanding, athletic, and competitive. Mahoney attributes this misconception to "negative stereotypes" seen in movies and television. McNeilly feels that cheerleading does not receive the same amount of support as other sports teams, stating the cheer squad is often not "recognized." Babb seconds this statement, saying that since cheerleaders are tasked with spreading positivity, it's "sad to not receive any positivity back." 
Beyond a lack of support, Babb feels there is a double standard from the administration between cheerleaders and football players, saying there have been "multiple instances" of football players "getting away with things cheerleaders would be kicked off of the team for." Babb feels the school views individual football players as "valuable assets" and does not consider how valuable members of the cheerleading team are. 
Furthermore, Babb does not see an equal distribution of time and resources. Babb pointed out that cheerleaders did not receive new uniforms from 2015 until 2020, and cheerleader's "time and space" is "often disregarded" by the school. Cheerleading equipment has at times even been used for gym classes and been "mistreated." 
Fortunately, cheerleaders do have some allies: Babb points out that Board Members of Scituate Football are very supportive of cheerleaders, specifically Robyn Sullivan, who Babb states goes "above and beyond" to give cheerleaders a "spotlight" and make sure they are included. 
These issues have recently become visible on a much larger scale. In the recent documentary A Woman's Work: The NFL's Cheerleader Problem, filmmakers brought to light the harsh working conditions of professional cheerleaders. Professional cheerleaders for NFL teams make as little as $5 per hour–below minimum wage–and are responsible for all expenses incurred, such as equipment, makeup, hair, and travel to mandatory events, all while cheering alongside players making millions. Many cheerleaders have filed lawsuits against their organizations, suing for wage theft and unfair employment practices. 
As a whole, the issues in the NFL seem to be a direct translation of the issues faced at the high school level: negative attitudes toward cheerleading and a lack of respect for cheerleader's work and value.