Enes Kanter Shares his Message: Freedom for All
Celtics player speaks out for freedom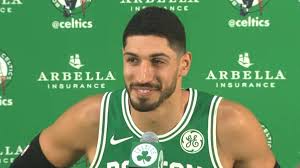 Hang on for a minute...we're trying to find some more stories you might like.
NBA Center Enes Kanter was picked up in free agency this off-season, signing a two-year $10 million deal with the Boston Celtics. Kanter has been quickly invited into the Celtics culture, becoming a fan favorite and an All-Star nominee for the 2019-20 regular season. 
After losing eight-straight away games to the Toronto Raptors, the Celtics finally broke through on Christmas day defeating the Raptors 118-102 in Canada. However, most fans were more interested in Kanter's pregame outfit. 
Kanter arrived in Toronto wearing a black t-shirt with the words "Freedom for ALL" on the front. He wore the shirt in celebration of playing a game outside of the United States for the first time since November 2018. The reason for this: criticism of Turkish President Recep Tayyip Erdoğan and his dictator-like style of ruling. The New York Times reported in December 2017 that the Turkish government was seeking to jail Kanter for "at least" four years for insulting President Erdoğan. 
In July 2019, Kanter hosted a basketball clinic for kids at the Islamic Center of Long Island. The mosque was threatened not to host Kanter's clinic by the Turkish consulate, showing how his situation is almost inescapable, no matter if he's in the U.S. or not. Turkey also put out an Interpol "red notice" for Kanter, which is basically an international warrant for his arrest. 
In a tweet, Kanter claimed that he hasn't seen or spoken to his family in years. His father is in jail, his Turkish passport was revoked, he received daily death threats, he was almost kidnapped in Indonesia, and his family members can't leave Turkey because of his outspokenness against President Erdoğan. Nevertheless, Kanter stressed that he regrets absolutely nothing about speaking out against Erdoğan. He's just upset that it has to affect his basketball career so much, but he admits that the situation is "bigger than basketball." 
When describing how he felt about his first time both playing and traveling outside the country on Christmas day, Kanter said, "Definitely amazing. I just can't describe it with words. Just going out there was more than just a basketball game. For me, it was just going out there and living this freedom." Kanter stated he will keep "fighting for human rights and freedom of speech."