Dear College Board…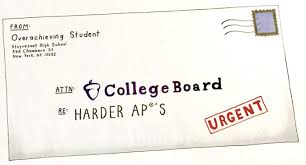 "There's not enough equipment, there's not enough people, there's not enough internal capacity, there's no surge capacity."  While this description of state and local medical research labs—according to the CDC director Dr. Robert Redfield—is not ideal, it's where we find ourselves.  America and the world would benefit greatly from a more robust medical research sector, and not just with respect to Coronavirus—diseases and afflictions like cancer, allergies, and traumatic injuries all stand to be better understood, and hopefully better controlled with more concerted research efforts.
Despite its flaws—which recent testing circumstances made even more obvious—the College Board's AP program has a unique role to play in the road toward a better medical research community.  The College Board should start the process of developing a new curriculum: infectious disease.  Considering the unprecedented circumstances created by Coronavirus, I would imagine this course might even be popular.  The study of infectious disease casts a wide intellectual net—one that can catch students interested in more than biology, but in politics, economics, or, in a more abstract sense, problem-solving.  Call me a hopeless optimist, but all this course needs to find is that one researcher to be considered a success.  
More broadly it's important that the trials of doctors and researchers working with COVID-19 don't go in vain.  And hopefully, even without an AP course on infectious disease, they won't. However, the course might better sustain a pipeline into a field where success is conditional on a steady stream of expertise and passion that can push the needle of progress.  An AP program on infectious diseases is a blessing for posterity, and hopefully, we won't be so incapacitated by the next "once in a century" public health emergency.
The Coronavirus pandemic has forced the world to categorize industries and activities as essential or nonessential.  The same scrutiny should be applied to the catalog of courses offered by the College Board.  Microeconomics, macroeconomics, Government and Politics, Art History–all-important, honorable intellectual pursuits offered in AP form—but are they essential?  We live in a world that is overly profit motivated, overly litigated, and overly concerned with aesthetics–all motivations that have proven meaningless to the scythe of Coronavirus.  A world that swallowed the inconveniences of placing science on a higher plain of importance has probably enjoyed a far less deadly existence.  If only that were us.