Need Help with Prom Expenses?
Scituate Community Christmas is here to provide assistance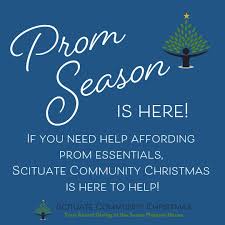 Scituate Community Christmas (SCC), a project founded 30 years ago by Scituate resident Susan Phippen, aimed to ensure every child received gifts at Christmastime. Since then, SCC has evolved beyond Christmas to provide year-round assistance for those who need it. This ranges from support with groceries or bills, medical expenses, household appliances, birthday gifts, sports activities, and any prom-related expenses. 
Just recently, SCC has generously helped the community in a variety of ways: The organization has purchased beds for four residents to ensure a healthy and comfortable sleeping environment, covered the expense of eye exam and eyeglasses for a resident, funded an after-school enrichment program for a student in need of academic assistance, covered housing expenses and related bills to prevent a resident from being evicted, funded a once in a lifetime opportunity for a student to attend an achievement-based out- of- state academic experience, and provided much-needed equipment for students trying out for a sports team. 
With their commitment to ensuring every student can enjoy high school milestone experiences, SCC is now offering additional assistance for anyone who has purchased a prom ticket and needs help with any additional expenses, such as purchasing a dress or renting a tuxedo. If you are looking for extra support with financial expenses related to prom, visit their website at https://scituatecommunitychristmas.org for more information, or contact their team through [email protected]. 
Thanks to donors, Scituate Community Christmas has continued its legacy of aiding the community. SCC urges anyone who knows or is suffering from the results of a fire, flood, divorce, illness, homelessness, or any other unforeseen tragedy to visit their website and apply for assistance. All information is kept confidential and will be thoroughly reviewed by SCC's intake team to determine the best support for you.