Senior Sleigh Ride: Brigid Coleman Enjoys Creative Writing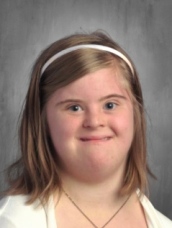 Brigid Coleman, widely known as "Brigey," has been an SHS student for two years, and favors her year as a senior. Coleman lives in Hull with her mom and her four-year-old dog, Ollie. 
After experiencing a wide range of high school classes, Coleman prefers her class with SHS English teacher Paul Scavotto, who teaches Creative Writing. He also happens to be one of her favorite teachers, alongside Ms. Kendra Doty, Ms. Kristin Arnold, Ms. Kaila Scatto, and Ms. Julie Rosen, who support Coleman in the iExcel program. 
In her free time, Coleman loves to travel with her family, noting that her most memorable trip was to Myrtle Beach in South Carolina.
An active member of the Best Buddies Club, Coleman enjoys making friends, including her friend Stephen. If Coleman could pick one person to go on a sleigh ride with her, she would take Finn because "he is the absolute best," she said, and they went on a fishing derby together.
Christmas traditions in Coleman's family include spending time with friends and loved ones. Last year, she was able to see Christmas lights on a party bus, which she thoroughly enjoyed. 
After she graduates from high school, Coleman aspires to be a singer. She hopes her fellow students at SHS appreciate her ability to pursue her dreams.