Senior Sleigh Ride: Cooper Grant Demonstrates Leadership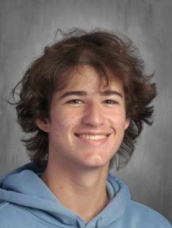 Hopping onto the Senior Sleigh Ride this week is SHS senior Cooper Grant. Known for his brilliant mind and attitude at Scituate High School, Grant portrays his leadership qualities as co-president of the SHS Robotics Club and president of Amnesty International.
Out of the many advanced placement classes he has enjoyed at SHS–including the five AP classes he is currently taking–Grant's favorite has been AP Physics with science teacher Geoff Gross. He ranked AP Chemistry as the toughest since it was "fully online."
Although Grant has lived in Scituate his whole life, he has no plans to stay. After exploring many colleges, he applied early to Cornell University in Ithaca, New York, as it is one of his top choices. He plans on majoring in computer science, and is currently taking AP Computer Programming with math teacher Kerri Hallihan. In this class, he is learning how to code and use Java programming. 
Grant looks forward to the winter indoor track season. He said this year's team has a "great sense of community" and admires how "everyone gets along really well," adding, "playing games together is the best." Ideally, Grant would like to break a school record for the 600 meter before he graduates.  A piece of advice he has for underclassmen is "don't make your workload too hard. Push yourself, but not too hard, and just try to have fun!"
When it comes to holidays, Grant and his family host Thanksgiving. On Christmas Eve and Christmas Day, they once again get together to open presents and spend time with one another. 
If Santa could make one wish come true for Grant, it would be unlimited money. With this wish, he wouldn't have to worry about a job. Instead, he could help out his friends. He would even buy them cars!
If Grant could bring anyone on Santa's sleigh with him, he would definitely take along Adam Sandler. When asked why, he responded, "He's so funny! You'll never get bored."