How To: College Dorm Life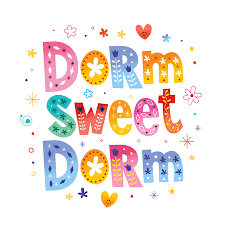 As the seniors' high school journey comes to an end, everyone is scrambling to figure out college plans for the fall. Between dorm buildings, roommates, and college essentials, here is what you need to know before starting school this fall! 
Jane Feeney, a 2021 SHS graduate, just completed her first year at College of the Holy Cross in Worcester, MA. Feeney was nervous for her first year in a new place, as many incoming college freshmen are, so she understands the nerves and stress of preparing for college. According to Feeney, "College essentials are a comfy mattress topper…power strips…[and] definitely a fan." 
Although it is important to remember the essentials, it's also wise not to overpack. Dorms are small, and without many storage options, you don't want to bring too much. Feeney said, "You definitely don't need a ton of decorations for your room. I brought some pictures of my friends from home." Feeney also said, "I would also leave a ton of high school merch at home." In college, literally, no one cares about your high school's themed football shirts. Leave these at home to give yourself more room for practical items. 
Charlotte McNeilly, SHS Class of 2017, attended Suffolk University in Boston for graphic design. According to her, a shower caddy is a must-have if you have a communal bathroom. She also suggests buying a mini-fridge if your dining hall allows you to take food or if you live near a convenience store. She also recommends bringing Command strips/hooks/velcros for hanging shelves (if you get the right kind), coats, towels, bags, and picture frames. She also emphasized, "You will need extension cords!" Charlotte and her sister Elliot McNeilly, Class of 2016, both agreed that bringing all your clothes is a mistake: "Bring your fall and maybe winter with you first, then swap for your spring clothes later in the year." Elliot added, "You can never have enough clothing hangers because it's a huge space saver to be able to hang up some clothes to free up dresser space." 
Elizabeth Stevenson, Class of 2019, is currently attending Regis College in Weston, MA, for nursing. Prior to that, she attended the University of Iowa in Johnson County, Iowa, where she lived in a double, but at Regis, for her sophomore year, she moved into a single. Stevenson stated, "Essentials would be a good fan, flip flops for the shower and slippers for the dorm, lots of Command hooks, good quality extra storage drawers, and extension cords." She also went on to add, "Leave behind clothes you don't think you'll wear" to make more room for yourself and to make your move easier. 
To beat the rush and empty shelf horror, it's important to start your college shopping early. Feeney says she "started shopping for college in the middle of July." It's better to have those closet organizers and power strips sitting in your garage for a few weeks than not to have them at all. Feeney also suggested, "Dorm items are very expensive." There's no doubt that a quick Target trip can turn into an entire shopping spree, and with college shopping, you don't wanna get carried away. Feeney explained, "You don't need the most expensive items in your college dorm." And if you're looking to save money, Fenney recommends you save some of the money you get from graduation gifts and put it toward college shopping and preparation. 
While it's nice to be close with a roommate, it's also important to remember that college dorming is still a basic roommate situation. "Roommates are wildcards," says Charlotte McNeilly. "Even if you think you might know your roommate from online, the same friend group, maybe even a current best friend, you have never lived with them, so it could go great or… less great." The best thing about a roommate or multiple roommates, in McNeilly's opinion, is they are a built-in network to make close relationships and your first opportunity for companionship at school. "The worst thing about roommates depends on your personality. If you like things clean, they might be dirty. If you don't clean, they might be mad," she explained.
McNeilly recommends borrowing things with permission, picking up after yourself, and not locking your roommate out. "Unfortunately, finding out what the worst things about roommates are is something that we all find out from separate experiences," she said. In Feeney's experience, she went random for her first year at Holy Cross. Feeney found that "going in random took a lot of the pressure off picking a roommate before moving in or meeting people." Feeney's biggest piece of advice about roommates is to make sure "you set boundaries at the beginning and be open." You don't want to get off on the wrong foot with your new roommate.
Charlotte McNeilly added that it's important not to think that people have already established friend groups by mid-semester: "You will meet so many new people over time and over multiple years," she noted.  Stevenson commented on the idea of roommates by saying, "The best thing about roommates is having someone to start this new experience with." She added, "Something about roommates you should know beforehand is always be clear on boundaries about things in the room, and if you're ever unsure, always ask if they'd mind." When living in a new place, especially in college dorms, Stevenson suggested, "The best thing to do is introduce yourself to the people living around you."
At the end of the day, this is your college experience, so don't let others drag you down or drag you into unnecessary drama, explained Elliot McNeilly. "You're there to earn your degree and better your future, so don't let anyone pull you away from that."
The transition to college can be hard, but it will work out! Try to remember that everyone is feeling nervous and wants to meet people, too! "It will all work out," Feeney said. Charlotte McNeilly added one final comment: "Take RA room checks seriously, and clean out your mini-fridge."