Local Business Sparks Community Excitement!
Rising Tide Collection inspired by nature's beauty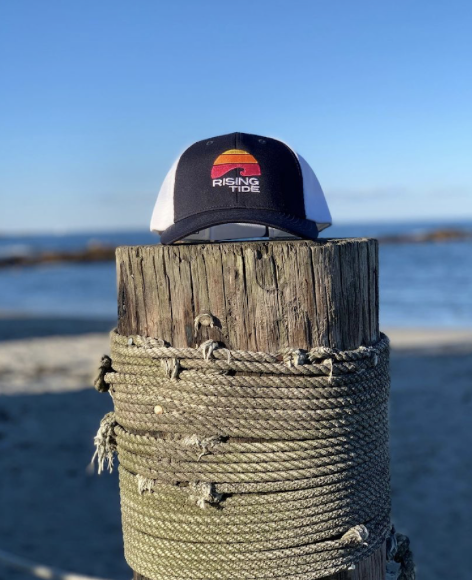 Looking to support local businesses and rep local apparel?
Well, look no further! Fresh out of Scituate, two local mothers unfold the Rising Tide Collection. Having grown up in New England, Sara Bell and Ashely Schumacher were amazed by the unpredictability and beauty of the ocean. Pulled in by nature's aesthetic, both Bell and Schumacher moved to Scituate to raise their families. 
"Inspired by the beautiful place that we call home, Rising Tide was born," states Bell and Schumacher on the Rising Tide Collection website. Centered on helping the community, creators Bell and Schumacher relate closely to the quote, "a rising tide lifts all boats." 
Many people have been excited about the long-awaited drop of the Rising Tide Collection. 
"I heard about Rising Tide through a close friend and immediately went to their website," commented senior Jordan Tripp. "I thought it would be so cool to have a sweatshirt with all the local beaches on it. The designs are very appealing, especially to people that live in a coastal town like Scituate."
SHS junior Sarah Spires was fortunate enough to partner with the new company. Spires took part in a lifestyle shoot for the company.
"We had a super fun, engaging photo shoot out on the Scituate Spit, for some new apparel," says Spires. The pictures were featured at the Rising Tides booth this past weekend at the Shore Craft Fair. 
"I felt like a celebrity," commented Spires.
Rising Tide works closely with many local organizations and donates a portion of all sales to benefit local organizations. Through the end of 2021, Rising Tide has partnered with Scituate Community Christmas to give back to the community that started it all, especially throughout the holiday season. Bell and Schumacher recognize the hard work of Scituate residents and understand the holiday season can be a tough time for many families. This holiday season, Rising Tide will connect with Scituate Community Christmas and support these families.
It's always interesting to see a new company being born and developed locally in Scituate. With sky-high reviews so far, the community is excited to see how the Rising Tide Collection progresses as the company releases new apparel.