SHS Girls Taking UMass Lowell's Engineering Course by Storm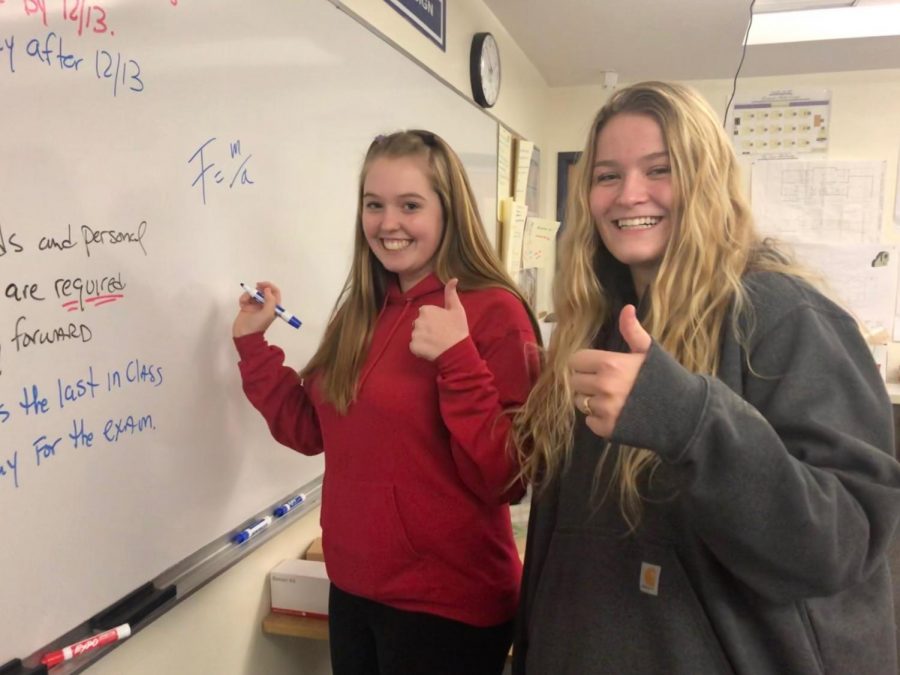 Some students have elected to start their college journey early by taking the two-year, twelve-credit college engineering course being offered by UMass Lowell at Scituate High School. Juniors Ella Bentley and Valerie Cavanaugh are the only female students enrolled in the class from Scituate. 
Professor John Mullin has been teaching at the collegiate level for twenty years, previously working in the industry for 20 years as an application engineer. He enjoys the maturity of students at the collegiate level and compares "middle school and high school as building the foundation," saying, "in college, you either build the house or you don't build the house."
Utilizing an online simulator called WhiteBox Learning, the main goal of the class is for students to successfully build a mousetrap car that can complete a course. Being a college course, the class is taught at a similar pace–and mimics–a real college experience. 
Focusing largely on project-based learning, students are able to attain a real-world sense of what a career as an engineer would be like. "I wanted to see if I wanted to do engineering or not, and if I wanted to pursue it in college, this would be a good crash course because it's during high school," says Bentley, adding that the cost and stress level of this course makes it a more realistic option than trying it out during her college years. Mullin expressed how much of  "a big plus" it is to be able to step into college with twelve credits already under your belt. 
In a field dominated by men, women in STEM have historically faced unique challenges. Bentley and Cavanaugh, however, have been pushing through these societal boundaries, and have made an impact in the class. "From the people I've told about [the class], I've got praises like, 'Oh my god you're part of the [X] percent of girls in STEM!'" says Bentley. 
Although Bentley and Cavanaugh are outnumbered in the class, they don't feel as though being female has hindered them in their advancement in the engineering course. "I think he expects more from us," Cavanaugh says.  
Mullin is pleased with Bentley and Cavanaugh's progress and their willingness to communicate with him–in contrast to the other males in the class. According to Mullin, both males and females bring different skill sets into the engineering field, which ultimately leads to a diversified and positive environment.