Peggotty Returns After New SPS Animal Policy is Adopted
Unofficial SHS Mascot is Back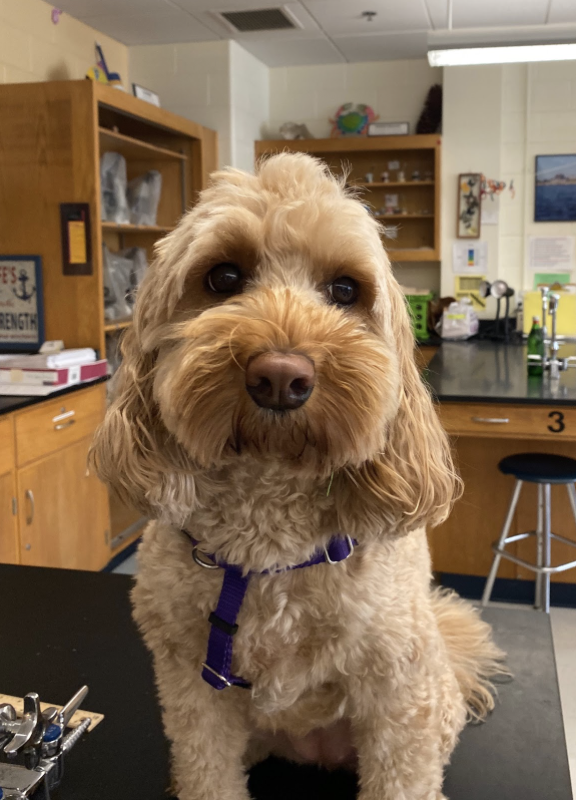 During the 2018-19 school year, the absence of Peggotty, the popular 3 ½-year-old labradoodle who previously resided in Deb Boyle's science classroom, caused concern and controversy among staff and students alike. Peggotty was the staple of freshman biology, not to mention the unofficial school mascot, and little explanation was given as to why she wasn't in school. After Peggotty left, the front of Boyle's classroom was laid barren, and students were disappointed. 
In fact, during that time, all animals were removed from classrooms across the district while a team of educators reviewed and evaluated the district's official policy regarding animals in a classroom setting. Together, the team wrote a new policy that was approved by the Scituate School Committee this past August. The new district policy specifically distinguishes "emotional support animals" from "service animals." Accordingly, emotional support animals, such as Peggotty, benefit the emotional well-being of Scituate students. 
Last school year, freshmen were able to interact with Peggotty for a few weeks before she was pulled out of the class to create animal equity across the district. "My whole class was upset when she left for the year, because of the fun and positivity she brought into the class," said Sydney Washburn, a sophomore who took Boyle's biology class last year. "[Peggotty] made it a more fun learning environment, and it was cool to have an animal we could interact with in class."
When Peggotty was brought back into the classroom at the beginning of this year, it was like she never left. Students were happy to see her walking down the halls, her tail wagging behind her. According to Boyle, Peggotty has also positively impacted the faculty: "That's the one thing I saw when she came back this year, the faculty was so excited to see her." 
Emotional support dogs are still relatively new to Scituate High School. According to Boyle, Peggotty "deinstitutionalized all of what a school is." She explained, "A school can be very sterile looking…when you put an animal in it…it doesn't feel like a school." 
According to Boyle, Peggotty hasn't been a distraction to her students. The only time she is disruptive is when she barks, which rarely occurs. Usually, Peggotty sleeps during lectures or walks around the classroom looking for affection. To release her puppy energy, Peggotty spends her free time playing fetch with homeroom students or hanging out with the faculty at lunch.
To stay updated with Peggotty, follow her on Instagram @peggotty_shs.