Alec Mulkern's Calculus Transforms the Gettysburg Address
"Gettysburg Arithmetic" video emphasizes the full measure of calculus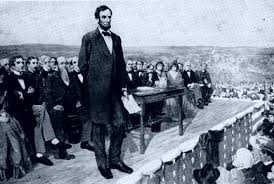 Hang on for a minute...we're trying to find some more stories you might like.
Once seniors complete their AP Calculus exam in May, they spend their final unit working on a creative project with only one requirement: It has to be meaningful. "It can be anything they like," says Scituate High School math teacher Kerri Hallihan, but it has to be "meaningful calculus." The project is graded on a scale of the amount of creativity and calculus involved. SHS math teachers have been assigning this project for years, and students have been "incredibly imaginative," according to Hallihan.
Class of  2018 student Alec Mulkern was initially inspired to create his calculus project when Hallihan showed his class a movie scene where a person had changed the subtitles to relate to calculus. Although he still did not know exactly what to do, Mulkern conducted research and eventually decided to make his own Gettysburg Address that was related to calculus. "I had no idea what to do for a project, so naturally I took out my computer and went on YouTube," he said.
Using footage of the Gettysburg Address scene from "Saving Lincoln," the 2013 feature film, Mulkern was able to make it seem as though President Lincoln was delivering an address about math and its greater effects in the public schools today. Mulkern's video, "Gettysburg Arithmetic," is available on YouTube.
The whole project took Mulkern hours to finalize. He had to write the script, record his voice, and edit the video and audio together. According to Mulkern, one of the most challenging aspects of the project was syncing the rhythm of the words to correlate exactly to the Gettysburg Address. Creating the voice-over for the speech was unexpectedly the hardest part for Mulkern, as he had to speak over the movie scene with his new calculus-based speech. His words had to be in perfect time with the Gettysburg Address. "After around fifteen takes, I can proudly say I know the Gettysburg Address by heart!" said Mulkern.
Mulkern received  Hallihan's help during the process, explaining that "she was very supportive in letting us be as creative as we wanted." Reflecting on the project, Mulkern is relieved it is over. He said, "The fact that it made sense and somewhat resembled a story was just a happy accident."
Hallihan was completely amazed by Mulkern's final project. "His project clearly took a lot of time and effort–I cannot believe the precision on how he tackled the audio part," she said. Hallihan expressed her appreciation for Mulkern's creativity, saying, "I was really blown away with it." Hallihan said this project represents one her favorite parts of the school year: "I absolutely love to see the things people come up with."
Mulkern is a natural math talent. He has a passion for math, saying, "I love math, so, of course, I enjoyed calculus. It was one of the classes in which I felt most comfortable." Hallihan said she enjoyed having Mulkern as a student because he is "a super hard worker–always present and very enjoyable to have in class."
In the fall, Mulkern will be a freshman at Washington and Lee University in Lexington City, Virginia, where he is interested in pursuing a future in math. He said, "I am hoping to become a mechanical engineer, so a very large portion of my schooling and career will be devoted to math."