Not Today: Today's Up and Coming Band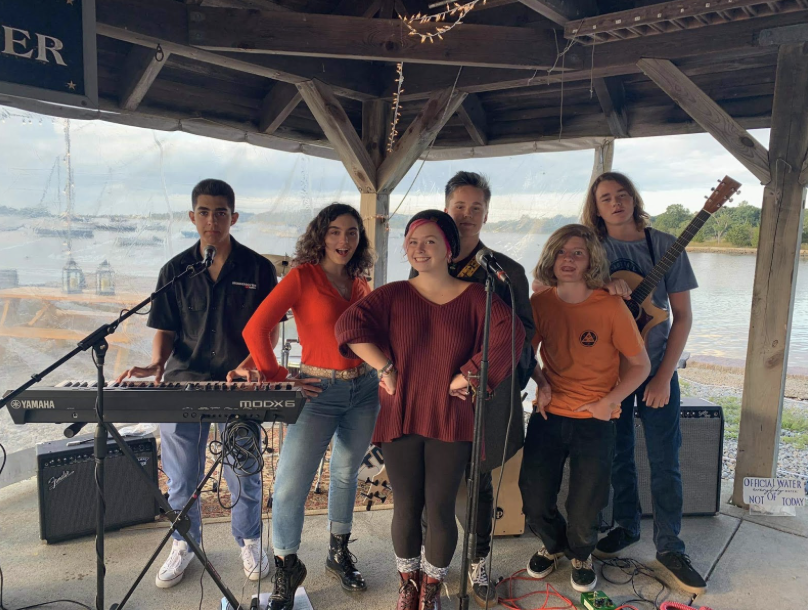 SHS senior Darcy Milligan is the newest addition to the local band Not Today. Milligan, who is a bassist, replaced the previous bass player, who left to attend college. 
Not Today consists of six teens, Olivia Monarch (vocalist), Cameron Igo (drums), Larkin Tanner (guitar), Kristen McCarthy (keys and background vocals), Tasman Claridge (guitar), and Milligan (bassist). The band has been playing and performing for over three years, with other members coming and going.
The actual name Not Today comes from one of Monarch's shirts, which said the words, "Not Today" on it. She explained that "it was a name that sounded good… it can be interpreted in a lot of ways, and we liked that."  
Not Today has their music on all streaming platforms, such as Spotify and SoundCloud. However, they often play their newest creations at local gigs and fundraisers.
Regularly playing at The C Note, a club in Hull, Massachusetts, the band attracts an audience from teens to adults. Milligan finds inspiration from Radiohead and genres such as funk and blues. Igo and Tanner explained that their motivation is drawn from the 80s and 90s rock music. Monarch feels inspired by modern rock, such as music from the band Paramore. 
Not Today had the opportunity to play at the Levitate Music Festival in Marshfield, Massachusetts, this past summer and is planning to go on a Northeastern tour in November of 2019. Monarch describes her excitement for the upcoming tour, saying, "Heck yeah, I'm so down to miss school."
Not Today also has the chance to have their music played on the college radio station, 88.9 WERS. On October 4, 2019, they also performed for a charity event at the Hingham Community Center. 
Monarch explained that the band has not faced any significant challenges throughout their musical journey. In fact, one of their acquaintances helped schedule gigs in the beginning and has been dedicated to the band's success from the start. Nevertheless, Milligan said it can be difficult to "get out of the music scene you start in." In the future, the band members hope to be playing a lot more out of state, in major hubs such as New York City, hoping to broaden their fan base.