SHS Basketball's Ohana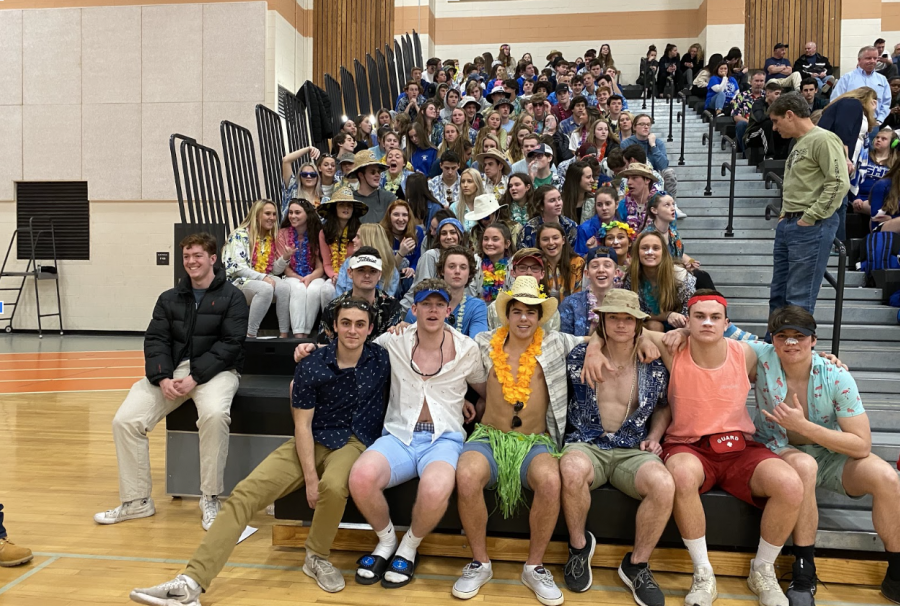 Ohana means family. We all learned that as kids when we watched Lilo and Stitch. On Wednesday, March 4th, the Scituate basketball Ohana showed up to support the boys varsity basketball team as they made their way further into the playoffs. Despite driving over an hour to make it to Taunton to see Scituate face Randolph, the fan section was packed from all grades. 
Before playoffs started, the boys did not have a full fan section to look up to and feel support from. But when the news was out their impressive 18-2 record allowed for a home game the first round of playoffs Thursday, February 26th, the whole town packed the Scituate High School gymnasium. Following the win, the basketball team earned another home battle against Hingham.
The crowd on Sunday, March 1st, was nothing like the Scituate staff had ever seen. Fans had to show up over an hour early to get a ticket or a seat in the gymnasium full of blue. Scituate fan section gained recognition from the SHS Athletic Director, Peter Umbrianna, who tweeted, "love being a part of a town that supports its athletics to the fullest!" As the boys move further into playoffs, the whole town is coming out to support their boys in blue.  
As the basketball team keeps progressing, the fan section grows more and more. The Scituate students realize how enjoyable the games can be and how much the fans' support can affect the players. When the crowd gets riled up by the cheers, it brings everyone together to show the support for the team!
To motivate Scituate fans to show up and dress up, Celtics tickets were awarded to the best-dressed outfit. The contestants were SHS sophomore James Cannon and seniors Will Sheskey and Audrey Marhoffer. The winner of the tickets was determined by which contestant received the most praise. After the crowd cheered for each student, the decision was made: James Cannon won the Celtics tickets. The game resumed, and the Sailors took it home for another victory to take them to the South Sectional Finals on March 7th.