Widow's Warning: Golfers Violate COVID Course Closures for Free Golf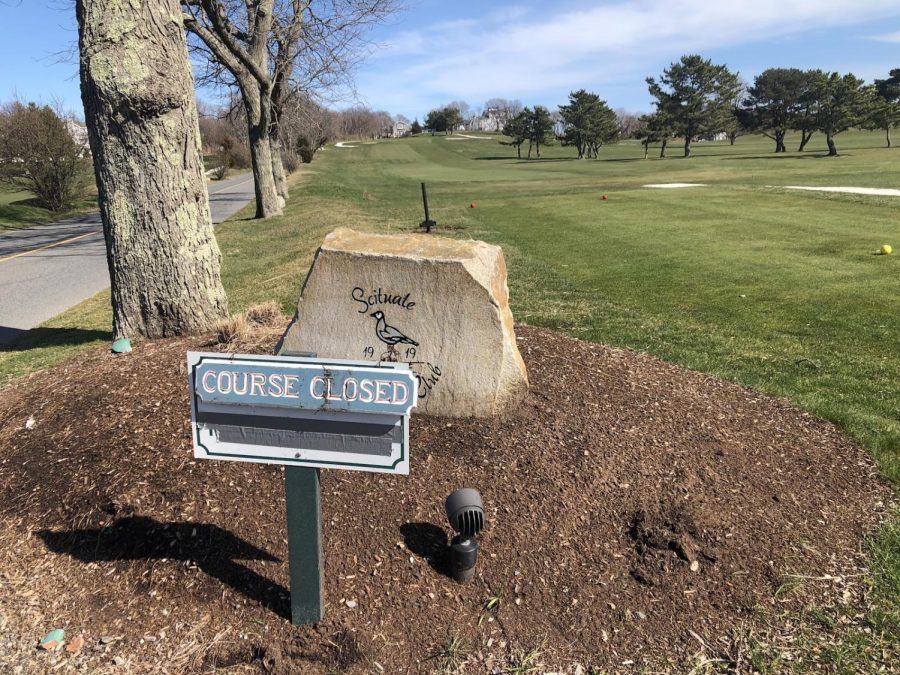 As the COVID-19 pandemic threatens to drag on for months, parks, sports, businesses, and restaurants, which were once the main source of entertainment in daily life for average Americans, continue to close for an indefinite amount of time. Along with the shutdowns, activities to keep residents occupied are becoming increasingly strenuous. One of the groups having a hard time with the lockdown may come as a shock: the golfers. After only a few weeks of the shutdown, local golfers are already violating stay-at-home orders and course closures for a chance to get out of the house and play a round of free golf. 
As a potential health risk, the three Scituate golf courses, Scituate Country Club, Hatherly Country Club, and Widow's Walk Golf Course, all closed within the last week following a state order to close all courses; this came after the local courses had opened for the spring for just under a week. Hatherly and Scituate Country Clubs, which are private membership courses, simply displayed signs: "Course Closed!" However, town-owned Widow's Walk took it a step further by placing entrance blocks into the parking lot to deter any potential use of the course grounds, which are popular for dog walking as well as golfing. Despite this, many ambitious golfers have disregarded the signs and rules by merely parking across the street at the A.J. McEachern Memorial Trail and walking over. The illicit golf isn't uncommon, as it seems like every time you drive down the Driftway you see golfers crossing the road onto the course. 
Locally and across the country, golfers have been facing stiff punishments for violating the quarantine and course closures. On April 3rd, three Massachusetts golfers were arrested in Rhode Island and charged with misdemeanors for violating the state quarantine order. In Scituate, the police are beginning to become more proactive in breaking up groups of people in places like beach parking lots, parks and fields. However, if they can stop those types of gatherings, then why can't they stop people from golfing? The answer is simple: besides when you're crossing the Driftway, they can't see you. Widow's Walk is unlike its local counterparts, Scituate and Hatherly, which can be easily seen and monitored from the road and surrounding houses. Widow's Walk is set back, and it's covered in hills and woods that make it impossible to view from anywhere other than on the course itself. The town has neither the time nor the resources to monitor it in the ways that the two other private courses can. 
As an avid golfer myself, I understand the frustration that comes along with being unable to participate in the game that brings so much happiness—especially now with warm weather approaching. With that being said, we must maintain the rule of law to maintain the health and safety of our friends and family around us. If that means there is no golf for a while—so be it.