Sarah Irish Commits to Siena College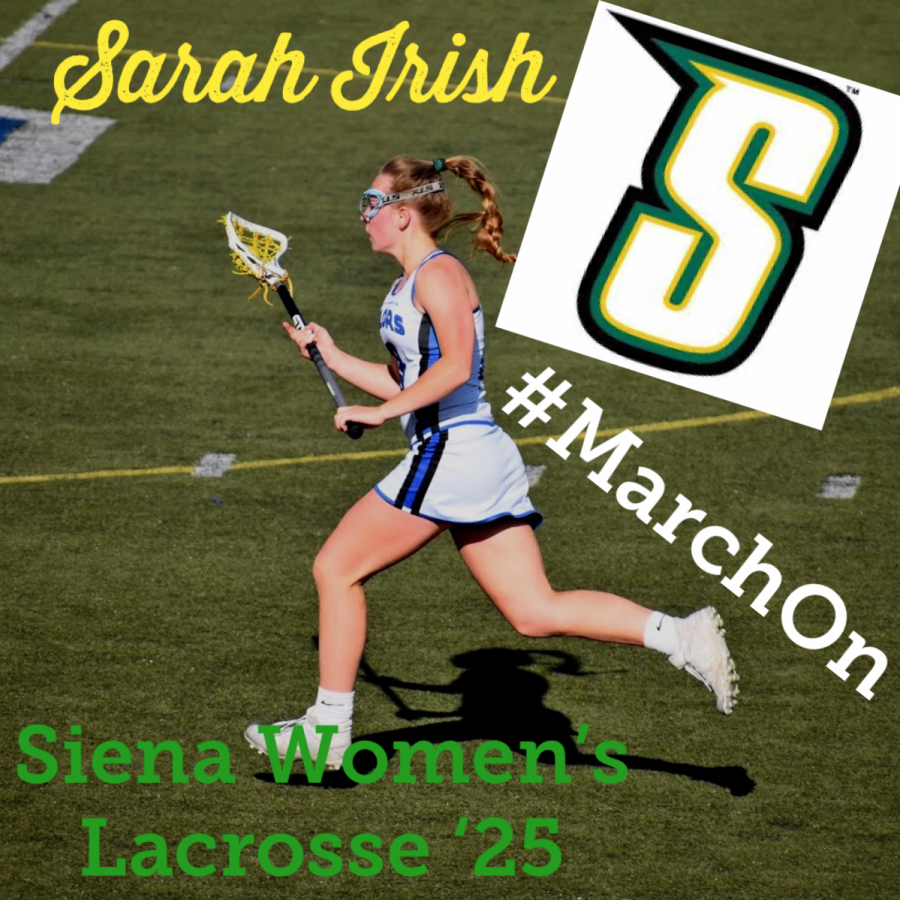 Two-time Patriot League All-Star and leading goal scorer, junior Sarah Irish, has recently committed to Siena College, located in Loudonville, New York, where she will be playing lacrosse in the NCAA Division 1 Metro Atlantic Athletic Conference (MAAC). Irish is happy to have accomplished her dream and relieved to end the recruiting process, stating, "The recruiting process is much harder than people expect."
Ever since the beginning of middle school, Irish has wanted to play at the collegiate level. However, during eighth grade, she started to attend showcases and prospect clinics to make herself noticed on the field. This led Irish to compete in selective showcases against teams from all over the country.  Despite all the travel, Irish has always known she wants to attend college relatively close to home. This significantly helped in her college search. While looking at Siena College, Irish also expressed interest in Boston University, Marist College, University of Connecticut, and the University of Vermont. 
A continued frustration for Irish was the complexity of the recruiting process. Lacrosse is among one of the strictest sports regarding recruiting rules, as no contact is allowed between the student and the coach until September 1st of the student's junior year. This is unlike other NCAA recruiting rules. Irish commented, "I had been contacting coaches since eighth grade and freshman year, and they can't reply to you, so it feels like you're doing it for no reason." Keeping her goal in mind, Irish persisted through the frustration, knowing there would be a reward in the end.
After years of hard work, Irish is excited to be a member of the class of 2025 at Siena College. Ironically, Siena College was where she attended her first prospect clinic during her freshman year at SHS; however, it was during her second visit, during the fall of her junior year, when Irish "fell in love" with the school. After meeting the coaches and touring, Irish's decision was clear.
Looking back among the years of practice and travel, waking up at dawn, and driving for hours for a tournament or clinic, Irish appreciates her mom for being there whenever she needed her. According to Irish, her mom is her number one fan, and she would not have been able to go through this difficult process without her. 
Looking ahead to her next four years, Irish is interested in majoring in communications or incorporating art and graphic design into her college experience. Irish is thrilled to play the sport she loves at such a competitive level surrounded by teammates who share the same passion for the sport.