Tiger Bowl Set to Make History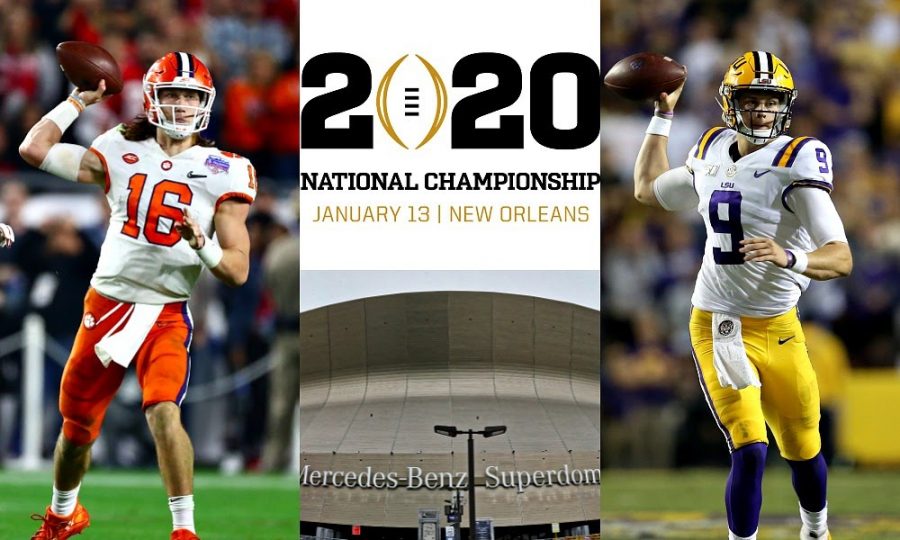 The 2020 Football National Championship is set for January 13th in New Orleans. The "Tiger Bowl" will feature the defending champion number 3 Clemson Tigers vs the number 1 ranked LSU Tigers. The matchup between the two undefeated teams marks Clemson's 4th National Championship appearance since the creation of the College Football Playoff in 2015. The 14-0 LSU Tigers will be returning to the National Championship for the first time since 2007. 
LSU
Heisman winner Joe Burrow led the LSU offense to the most successful season in school history. Burrow has averaged 4 touchdowns a game throughout the season, throwing 7 touchdown passes in the Peach Bowl vs number 4 ranked Oklahoma. This season has all but secured Burrow as the number one pick in the NFL Draft this coming April when he'll likely become the new hope for the Cincinnati Bengals. Before LSU, Burrow came as a graduate transfer from Ohio State where he spent his first two seasons as a backup. Since transferring to LSU, Burrow has smashed school records such as most touchdown passes in a game and first quarterback to throw for over 350 yards in three consecutive games. 
CLEMSON
The Clemson offense is led by sophomore Trever Lawrence, who has been dominant in his first 2 seasons posting an impressive 29-0 record in college and is 70-1, dating back to high school. Lawrence took over the Tiger offense in week five last year–eventually leading them to win the National Championship over Alabama. Lawrence will no doubt have to be exceptional in order to beat LSU, but beating top-rated quarterbacks hasn't been a problem so far, beating Tua Tagovailoa, Justin Fields, Ian Book, as well as two dozen others. However, this will certainly be his toughest competition to date.
The defending National Champion Clemson Tigers are looking to repeat the success they experienced last year, going undefeated once again with hopes of bringing home another title. Critics have dismissed Clemson's success as nothing more than the easiness of their schedule. Time and time again the Tiger team has shocked critics and been able to hold their own against tough teams. In last year's National Championship, the Tigers blew out the number 1 ranked Alabama 44-16. The question is will they be able to do the same against a team as good as LSU? 
When it comes to scheduling, there is some validity to the argument made against Clemson. Despite both teams having a perfect record (14-0), LSU is the favorite to win after having a schedule that included *** quality wins over highly ranked teams. Beating teams like Georgia, Alabama, Auburn, Florida, and Texas–just to name a few–whereas Clemson has had little competition on its way to the title playing only one ranked opponent. Despite this common critique of the Clemson team, they certainly were able to hold their own against the number 2 Ohio State, where they kept the Buckeyes to just 23 points in a 29-23 victory in the Fiesta Bowl. 
By coincidence, the game will be held in New Orleans on January 13th. It's safe to say LSU will have the advantage when it comes to the crowd. Regardless, the 2020 National Championship is slated to be one of the greatest college football games of our time.