Will Tom Brady leave the Patriots?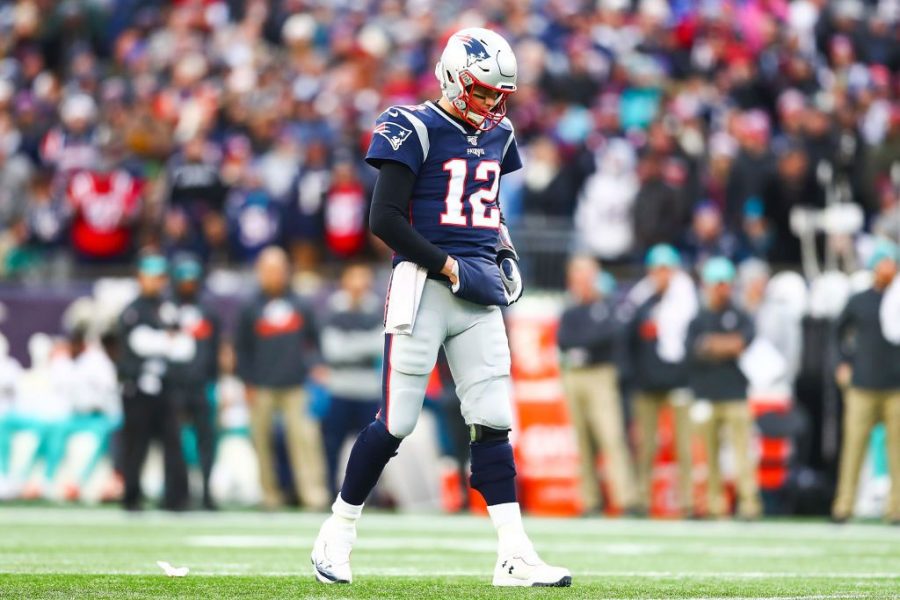 A stunning 20-13 loss to the Tennessee Titans on Wild Card Weekend symbolized the Patriots' earliest playoff exit since 2009 and broke their streak of 8 consecutive AFC Championship game appearances.  For Patriots haters, it meant a lot more than that: they believed it to be the end of the dynasty and Brady's final game as a Patriot. For the first time in his 20-year career, Brady will be an unrestricted free agent come March 18th.  He signed a 3-year extension with the Pats last offseason, but the 2020 and 2021 seasons were made void to save salary cap space. The team can't use the franchise tag on him either, as one of his contract provisions prohibits it. To think that the greatest quarterback of all time and the face of Boston sports could put on a different uniform next season is downright unfathomable.  With Bill Belichick and Tom Brady at the helm, the Patriots have built the greatest dynasty in American sports history. They've won 17 AFC East titles, 9 AFC Championships, and 6 Super Bowls across 2 decades. Could it all have come to an end? Could the GOAT really sign with another team this offseason?
A major factor in Brady's decision will be the status of Offensive Coordinator Josh McDaniels come free agency.  For 16 of the last 20 years, Brady and McDaniels have worked alongside each other and ran the offense in all 6 of the Patriots' Super Bowl victories.  Now, McDaniels is the head coach candidate in the highest demand, and the Cleveland Browns have the only vacancy left. In the past, he went just 11-17 as the Head Coach of the Denver Broncos from 2009-2010.  He infamously accepted–but then backed out of–the Colts' Head Coach position in 2018 after the Pats made him the league's highest-paid OC. This offseason, it seems more likely than ever that he will leave the Patriots' lackluster offense for greener pastures elsewhere.  If he does accept an HC position, there's a greater chance that Brady will also leave. Staying would mean he'd have to work with a new coordinator for the first time in a decade, and at Brady's age, a fresh face isn't the most inviting one. Some pundits have predicted that McDaniels will take an HC position at a franchise in desperate need of a quarterback, and will subsequently convince Brady to join him.  If McDaniels once again chooses to remain as Pats OC, the probability of Brady staying becomes a near-certainty.
The most underestimated influence in where Brady plays next year is Patriots owner Robert Kraft.  Ever since Brady was drafted, a relationship has developed between QB and Owner unlike any other in the NFL.  Brady is like a son to Kraft, and he considers the Krafts to be his second family. If Brady seriously considers signing elsewhere, expect Kraft to meet with him personally and do whatever it takes to keep him.  Although Kraft handed the keys to Belichick in 2000, we heard what (supposedly) happened when Belichick wanted to start Jimmy Garoppolo and trade Brady in 2017. Garoppolo was traded to the 49ers, and Brady remained as the Pats starting QB.  Kraft's unprecedented influence on football operations and power over Belichick will give him the ultimate say in Brady's decision.
If Brady does leave the Patriots, it will be for the most perfect scenario imaginable. He's going to want several offensive weapons that he can rely on consistently to create separation and keep the ball moving on the ground and in the air.  He's going to want a coaching staff that he can trust and an offensive coordinator who shares his intellect. Most of all, he's going to want to lead a serious contender to a Super Bowl. For his entire career, Brady's sole focus has been winning.  Considering his supermodel wife and already massive fortune, money is not his concern going into free agency. Don't expect him to be easily baited by some massive contract offer. If no team outside of New England offers a free agent QB the potential to win big in 2020, Brady will stay with the Patriots.
The way I see it, the most likely outcome is that Brady will be playing quarterback for the Patriots in 2020.  For one, the team's immediate options at the QB position (Cody Kessler and Jarrett Stidham) are not enticing. Although the group of soon-to-be free agent passers looks to be solid, none of them are true upgrades over Brady.  If the Pats look to the draft for a promising future QB, they're going to want them to sit behind and learn from a veteran for at least a year, which leads them back to Brady. 
The financial motivation for the Patriots to re-sign the GOAT is actually huge–and particularly overlooked.  If they choose to let him go, they will face a crushing $13.5 million in dead cap charges in 2020, as well as an additional $6.75 million in 2021.  As one of the smartest salary cap management teams in the league, the Patriots know that wasting this kind of money is detrimental and would really restrict their ability to spend in the free-agent market.
Joe Montana left the 49ers, Peyton Manning left the Colts, and Brett Favre left the Packers–but none of them were like Tom Brady.  His 20-year bond with the Patriots is unprecedented, his level of play at his age is unprecedented, and with retirement "pretty unlikely," he will feel morally obligated to finish his career where it all started.  His Patriots tenure won't end with a pick-six to Titans cornerback Logan Ryan. It will end as triumphantly as it began. He will team up with Belichick for one last ride, the Patriots will drastically revamp their offense in the offseason, and the haters will be shut up for one final time. 
The 2020 season will be a revenge tour for the ages–with Tom Brady leading the final chapter of the New England Patriots dynasty.