Smooth Sailing for Scituate Sailors Boys' Soccer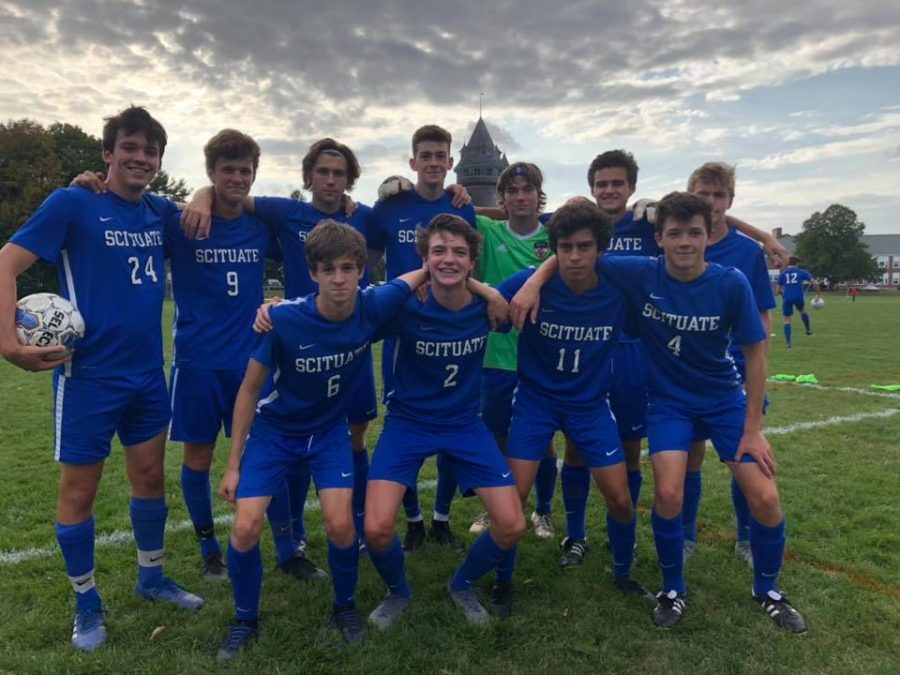 Scituate Soccer notched on another win against Quincy, winning in a dominant fashion with the final score being 6-0. This match adds another win to their undefeated 14-0-4 record. 
The Sailors have been on a mission this season for a deep run in the State Playoffs. This goal seems very possible after the team tied the former state champions Nauset High School earlier this season. Senior captain Charley Blacker said,  "After the Nauset game we knew that this is our year, and although we didn't win, we gained the confidence that we can compete with top-tier teams."
Charley, along with juniors Johnny Fogarty, Tyler George, and Jack Yukselen, scored the majority of the team's goals this season. This dynamic quadruple threat has terrorized the opposing team's defense all season long. The Scituate defense is anchored by senior Finbar O'Connor, sophomore Colby Mullen, and senior goalkeeper Aaron Nelson, who has twice been nominated as player of the week twice by the Patriot Ledger.
Scituate also had a huge win against team rival Silver Lake, beating them 4-0. The win against their rival meant a lot to the players. Jack Kimball said, "Silver Lake has been a strong team on the South Shore for many years. Scituate has had a lot of problems playing against them, and winning in the dominant fashion that it was proved that we've come a long way." 
The team has rallied around these big games, boosting team morale, and using the energy to play to their full potential. Senior Jack Krause observed, "The whole team has a great relationship with each other, and it helps to motivate and push each other to do better and leads to our success." With the wins piling up, the team has gained momentum, and their current success seems unstoppable. 
The team's success comes not only from their star seniors but also from underclassmen stepping up. When asked about the success of the team, O'Connor said, "I would accredit our success to our depth, and how we have no holes in our lineup." Players like junior Aidan Duffey have been valuable off the bench, as well as Kyle Dinwoodie who has been filling in for Gavin Roche, who is currently dealing with an injury.
Hopes are high for the Sailors this year, and with the momentum, they have now the sky's the limit for this skilled team. With the regular season coming to a conclusion, the Sailors look to continue their success into the playoffs