Air Was Thick with Celebration During Pats Parade
SHS Students Joined 1.5 Million Revelers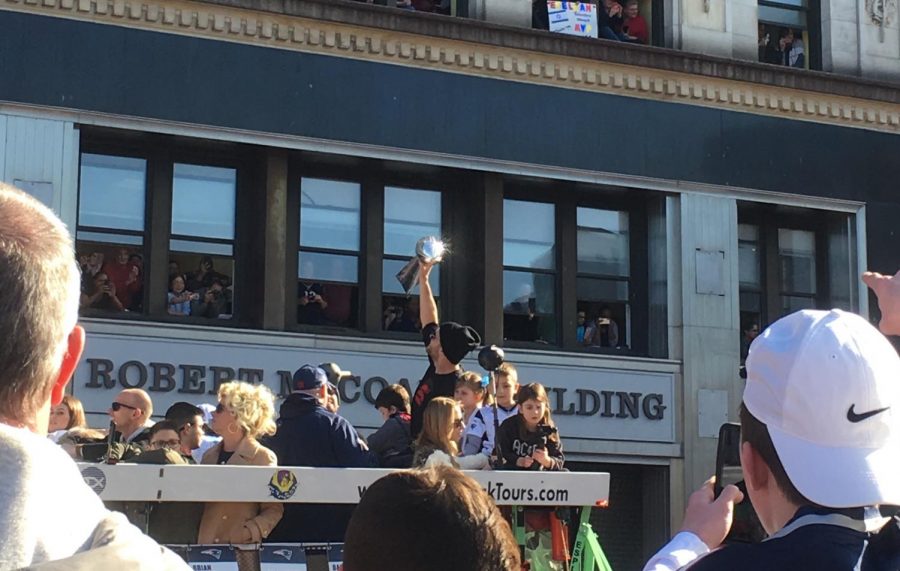 They did it again. New England Patriots wide receiver and Super Bowl 53 MVP Julian Edelman requested "record numbers" at the parade, and the people of New England answered. With over 1.5 million fans in attendance, the support for the Pats' sixth championship shattered parade records. Sergeant Detective John Boyle stated that it was the largest crowd that Boston has ever experienced for such an event.
Alongside the record-breaking crowd, the city reached a temperature of 65 degrees — obviously out of season for February — and set a record for the highest temperature recorded ever on February 5th.
Sure, greater Boston's youth may have overrun Boylston just three months ago for a Red Sox revel, but any onlooker could have mistaken this week's celebration for that of a 100-year championship drought. What they say seems to be true: Winning just doesn't get old.
With an estimated 1.5 million partygoers flooding the streets and unseasonably warm weather, it was clear that the city would be in for some rowdiness. Boston's finest did their best to ensure a safe experience for all, but that didn't stop many in the city from having their own kind of fun. Commuter rail routes were jam-packed with young people — many still in high school — decked out in Pats apparel and behaving like, well, unsupervised youth.
Ten minutes into a trip on Boston's Red Line, the air was already thick with sickening fruit-scented vapor, the very same that plagues seemingly every high school from here to Tacoma. Open container laws went largely unobserved by the general public, and it soon became clear that certain things would be let slide amid the celebratory spirit that swamped the city.
Boston Common, the epicenter of Tuesday's festivities, took on the adopted role of a concert venue; the muddy ground and acrid smoke would have been enough to make any Woodstock attendee feel at home. Fights were occasional but amplified tenfold by the constant social media saturation that will keep the parade's events alive forever. Videos of kids doing dumb things were commonplace throughout teen-oriented social media like Instagram, Snapchat, and Twitter.
In the end, the presence of such activities, while immoral in nature, contributed to the overall feeling of the day. While Boston Police worked hard to keep people safe, they refrained from crusading through the crowd, looking for rule breakers. Aside from the unfortunate story of a man being hit by a train in Norwood, nobody was seriously hurt despite the myriad laws broken. On any other day, individuals drinking cognac on a city train would be grounds for arrest, but according to BPD, only 12 folks were booked in total — out of a million plus.
As Patriots offensive guard Shaq Mason put it, "This s–t is fun!" Fun it was, and on a Tuesday that saw 60+ degree temperatures and literal hordes of Patriots faithful, it was hard to envision NOT living in Boston.
Being a part of such an event makes you realize the perks of living around here. A four-month-old New England sports fanatic has already seen two more championships than a 45-year-old New York Mets, New York Jets, and New York Knicks fan. To add along to that, a 17-year-old Bostonian has now been a part of 12 championships from four major Boston sports teams, which is nothing short of incredible.