Jack Poirier Breaks 3-Point Record
Father-Son Connection Key to Successful Season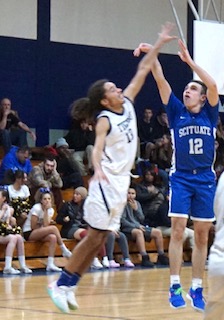 During Scituate's 88-63 blowout victory over reigning Division 4 Champion Pope John XXIII, not a lot went wrong for the visitors. The Sailors rode great individual performances from junior Nate Lopes (21 points, 6 rebounds) and Wicked Local Player of the Week, senior Aidan Sullivan (15 assists) to the win. But nobody stood out more than SHS junior Jack Poirier.
As a shooting guard, Poirier carved up defenders from behind the arc, nailing shot after shot en route to a breathtaking 37 point performance. Perhaps even more impressive was the way Poirier logged his name in the SHS basketball record books — 11 three-point shots in one game, which is unmatched in Scituate's history.
According to Scituate Basketball on Twitter, the previous record of ten, held by Tyler Parks, SHS Class of 2011, was shattered amidst Poirier's big night. According to Poirier, the record was special to him for a number of reasons: "I was at the game when the original record was set, and I remember it well," Poirier stated.
Still, the junior sharpshooter is more than happy to deflect credit for his historic performance to his teammates. "The ball movement was awesome. My teammates did a really good job of getting into the paint and finding the open man. We did a good job of being patient and finding the open guy," Poirier explained.
While the Sailors may have multiple players who will drop 20 points on any given night, the unselfish attitude shared by every teammate makes the team really special. Many athletes are born with talent, but the most important traits for any team sportsman must be taught.
Head coach Matt Poirier, Jack Poirier's father, is a teacher in every sense of the word. Between his 19 years of coaching experience and his professional career as a social studies teacher at Gates Middle School, the elder Poirier has seen it all. Nevertheless, he faced a new challenge over the past few years: coaching his own son. "I spoke to a lot of different coaches who coached their kids, and I found out what mistakes they made and what they did correctly," Coach Poirier said.
The relationship between Jack and his dad off the court goes hand-in-hand with their relationship on the court. Coach Poirier explained, "Jack and I have an agreement that all the way to the rotary (on the way back from games) I'm his coach, but after that, I'm his dad again. That's where we have our separation point."
Plenty goes into coaching a basketball team at any level, but the success the Sailors have seen with this father-son connection proves the most important component in the world of competitive high school sports is quality teaching.