America Faces a New Normal
Coronavirus writes its name into the history books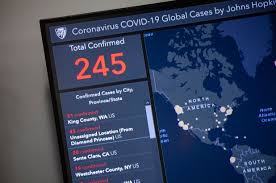 SPS Superintendent Ron Griffin announced on Friday, March 13, that all public schools would remain closed until March 27th due to the COVID19 pandemic.  Scituate joins a growing number of school districts in the United States and around the world to close. The announcement came on the same day President Trump officially declared a national emergency, a move that should allow for federal funds to flow more easily into important programs and organizations, especially as the United States lags behind in testing for new cases.
In the announcement to families, Griffin detailed interactions with caribou state and local officials that guided him to make an unprecedented decision.  He also emphasized the highly fluid nature of the situation, relating that conditions are subject to changes. Some questions remain, and students have started to wonder whether online assignments will begin to be posted after many colleges and universities made the decision to move all instruction online.  Another concern is with spring athletics, the virus has made landfall in the transition time between the winter and spring seasons for high school and college athletics, which have both seen unprecedented cancellations and regulations. Griffin said he and other relevant officials would continue to work promptly to share with the townspeople any changes or updates in their response to the crisis.
Experts have indicated that countries like the US, UK, and Canada might be only two weeks behind Italy in terms of the caseload.  Italy faces the most sizable threat outside of China, with hundreds dying every day. Prime Minister Giuseppe Conte made the historic decision to lockdown the entire Mediterranean nation, with some comparing the lockdowns and panic to wartime experiences of 80 years ago.  With mathematical modeling indicating America to be just a few weeks behind Italy, Griffin's choice to close schools is one that could help prevent the spread of this hard to find virus.
As America faces a new normal, closed school, empty grocery store shelves, and a retreat from public life should be expected.  It is important for all members of the public to regularly check for official governmental updates or advice. As coronavirus writes its name into the history books, people around the world wait for the day the page will turn. Until then, each day is sure to include more shocking, extraordinary, and depressing headlines.