Steve Harvey Needs to Shut Up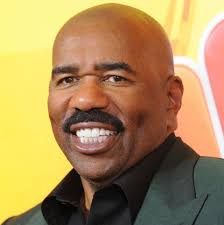 Steve Harvey is known for his animated and booming personality, which is most appropriately emphasized on Family Feud. Having done the show for ten years, he seems to have found his stride with the constant reuse of jokes and grand $20,000 prizes. 
But the spotlight on Harvey has not stopped him from publicly disclosing his controversial opinions. There is an entire section of Wikipedia, with subsections dedicated to his statements. It became especially apparent in his cold email to his staff at The Steve Harvey Show. 
The email was a welcome back message, but instead of a warm welcome, his staff was greeted with a list of rules to follow to keep their jobs. The email included orders including, "Do not open my dressing room door. IF YOU OPEN MY DOOR, EXPECT TO BE REMOVED." and "Do not approach me while I'm in the makeup chair unless I ask to speak with you directly. Either knock or use the doorbell." Yes. Steve Harvey's dressing room has a doorbell. 
His cold exterior isn't the only reason Steve Harvey truly stinks. Harvey recently appeared in court over his remarks he made during his 1993 standup act. He allegedly told the audience to "spit on white people" and go "assault old white women." This, along with the fact that he doesn't "give a sh*t about America," left Harvey with a lawsuit filed against him. Because it is a contract claim, there is no public evidence on the outcome of the situation. 
Or when Harvey decided to analyze a book for Asian men about how to date white women. He gave an example that the book should be one page long and should say, "Do you like Asian men? No. Thank you." He soon followed that up with another joke, "Do you like Asian men? I don't even like Chinese food." His cold apologies on his talk show and Twitter didn't do him justice.
Harvey's controversies are tiring. He has publicly said the following: 
"[Gay men] can't be real men." 

Referred repeatedly to Caitlyn Jenner as a "he." 

Men are only friends with women for sexual purposes.

Women cannot be real sports fans and are just trying to figure out why men pick sports over them.

Flint, Michigan, residents should "go drink a glass of brown water." 
Harvey has also been married three times, which is entirely acceptable, other than the fact that the two former marriages ended because of cheating scandals instigated by himself. 
My father told me he thought it was a generational thing, referring to his controversies. Maybe it is, but I'd hate to generalize all older generations as being racist, homophobic, transphobic, misogynistic, and overall bad people.