Traffic Headaches Continue at Gates and SHS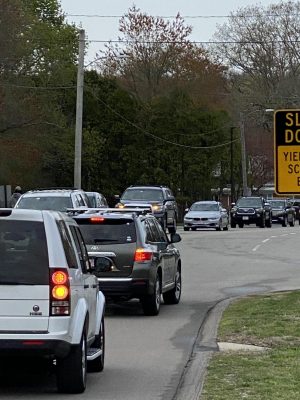 Every weekday morning from approximately 7:45 to 8:15 a.m., middle and high school students sit in a long line of cars on First Parish Road as they wait to enter the school campus. Entering the school campus from another direction, drivers who need to turn from 3A into the main entrance of the high school are typically stopped in dead traffic on 3A, which creates a significant traffic hazard. This traffic backup started on Monday, April 12th, the day middle and high school students fully returned to in-person learning.
Addressing these concerns, police details have been enlisted. On First Parish Road, a police officer is present in front of St. Luke's Church to help students cross First Parish Road as they walk to the high school. (Approximately 60 high school drivers are parking at the St. Luke's lot through the month of May.) Another police officer assists the extensive flow of cars dropping off students at the middle school. These drivers form a long line that extends through the Gates parking lot to the sidewalk near the school entrance. Occasionally, there is an additional police officer directing traffic near the entrance to the high school campus. This added police presence has helped with the safety and flow of traffic, but it hasn't completely solved the problem at hand. 
 At Gates Middle School, additional traffic may be a result of Covid, as many parents are driving their students to school. Some families consider Covid "hotspots" at schools to include cafeterias, sports fields, and school busses. Consequently, the dramatic decrease in students taking the bus led to increased parent drop-offs and dramatically increased traffic.
If more students would take the bus to school, fewer cars would enter the school campus, and the line of traffic before and after school would be manageable.
Although the number of middle school students who have purchased bus passes is at capacity, Gates Middle School Principal Ryan Beattie has found that some students who purchased passes haven't been riding the bus. This has added additional traffic, so Beattie encourages anyone who has purchased a bus pass to utilize it and do their part in helping to solve this problem. With the onset of warmer weather, middle school students are also being encouraged to walk or utilize their bikes and skateboards as sources of transportation.
Tardiness due to traffic is impacting the learning experience for grades 6-12. The first class of the day is rarely full, and teachers are starting their lessons without full attendance. According to Beattie, "Every minute that a student is not in a class is a missed opportunity for learning." 
At the middle school, the administration is no longer allowing time for students to be excused if they are late. However, Beattie explained there have been some ideas to decrease the number of students who are tardy each day. Beattie stated that they have "hired supervision 45 minutes prior to the start of the day." He also emphasized that many families have appreciated this offer and drop off their students early to avoid significant traffic problems.
Principal Beattie explained that they are "constantly looking to improve." Even though all Scituate Public Schools have been fully open for a little over a month, Beattie said that "from April 12th, there have been major improvements." As this unprecedented school year slowly comes to an end, the staff, students, and parents of Gates Middle School will continue to look for solutions to reduce morning and afternoon traffic.