Do the Right Thing
Administration Tries New Approach to Combatting Discrimination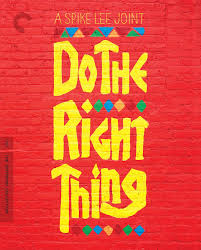 Although the must-watch Spike Lee film is 32 years old this year, Do the Right Thing remains both a staple in media that helps us understand the Black American experience and an aphorism that rings true, guiding many activist's efforts in Diversity, Equity, and Inclusion. 
For the Scituate High School administrative team, which consists of Principal Dr. Maguire (she/her) and Assistant Principals Karen Hughes (she/her), and William Luette (he/him), doing the right thing is at the foundation of a new incident reporting form, which was blasted through homerooms on Wednesday, January 27th. Available through the school website and on Aspen, this form was created to provide an easy way for students to report acts of discrimination to the school administration. 
"One of the things we've heard when speaking with students and families is that they are not sure how to report when something happens," Maguire states. In the past, social media has become a convenient outlet for students to spread evidence of their peers posting racist, homophobic, transphobic, or other discriminatory comments and slurs. "We want to take the conversation offline," Maguire adds, "We have to stop calling out and we have to call in." She explains that having the initial exposure to these incidents on social media platforms can be harmful to everyone involved, and that "canceling" students is never a part of the solution. 
However, an incident reporting form is only a stepping stone–doing the right thing takes time, effort, and, most importantly, the entire community. Ms. Hughes, a long-time proponent of inclusive and progressive work at the high school level, is eager for the DEI journey at SHS to continue. "I love supporting all students and staff," she excitedly claims, "I'm really excited to have the ability to be part of change when we deal with bias, discrimination, and harassment." When all three members of the SHS administrative team were asked about the origins of the problem Scituate faces when promoting diversity, equity, and inclusion, she had an answer: "I think the root of the issue is the inheritance of history," she hypothesizes. In stepping back from the situation, one can confirm what Hughes suggests, and, in a broader sense, we find ourselves back with Spike Lee and Doing the Right Thing.
Similar to the Italian immigrants who inhabit Sal's Pizzeria in Brooklyn, New York, Irish heritage is a staple in Scituate's past, present, and future. When one examines this pride, combined with Greater Boston's recent history of redlining, busing, and the subsequent "white flight" to the coastal towns North and South of the metropolis in the 70s and 80s, it is no surprise that there is a longstanding culture of isolation, "bubbling," and friction created between people and groups that Scituate is known for. Oftentimes, this lack of exposure to diverse cultures and ideas can lead to ignorance. "This stems back to empathy and tolerance and acceptance," Maguire summarizes, and her point is very valid. In a town where diversity, in all meanings of the word, is few and far between, it is all the more important that there are efforts made to protect all members of the community, especially those in marginalized groups. 
"Everyone wants change right now, and so do we. If we could push that magic button we would," Mr. Luette explains, "However, I think people need to realize that it's not going to happen overnight." Above all, using restorative practices and appropriate punishment when necessary is what the administration is focusing on. "No matter how big or how small, we will respond to every single report," Maguire assures students, parents, and everyone concerned. In the meantime, our words are important, and we must use them for positive change. After all is said and done, our actions remain a vital part of Spike Lee's foundational and revolutionary message: Do the Right Thing.