Mid-Year Exams Canceled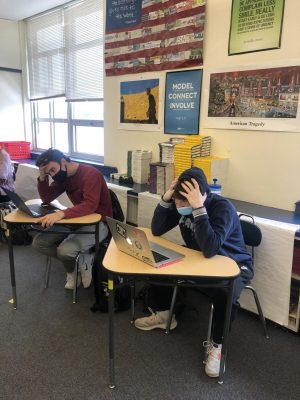 During the weeks leading up to the Thanksgiving holiday break, there were many rumors about mid-year exams–including speculation as to what would really happen this year. However, these rumors were addressed in Dr. Maguire's December 7th newsletter when she proposed canceling mid-year exams for 2020-2021 
Given this year's hybrid teaching model, administering exams creates an additional challenge. Many faculty members and students agree that having some students take exams in person while other students take exams online is not ideal–and possibly inequitable. Teachers were concerned that tests could be shared via photos or conversations because not all students would be sitting before the teacher on exam day.
SHS math teacher Phillip Blake stated that he wants all of his students to have an equal chance of doing well, which is difficult when some students are able to take tests in different environments–whether it be at home or in school. 
Before officially canceling mid-year exams, however, the SHS administration asked teachers about their plans for giving mid-year exams. With these unprecedented times, administrators wanted teachers to have that option, as every class is still adjusting to this year. Many teachers were not planning on giving exams; therefore, the administration followed up with a more official vote among teachers. When teachers voted to suspend mid-year exams, a decision was made to eliminate the traditional mid-year exam week (during the last week in January) so students could continue learning with an uninterrupted hybrid schedule. 
Additionally, juniors were originally scheduled to take MCAS and PSATS during the week of January 25th, which happened to be the scheduled week for mid-year exams. Although the state of Massachusetts decided to postpone MCAS until the spring, juniors are still scheduled to take PSATs on January 26th.
Prior to the decision to cancel mid-year exams, Scituate High School history teacher Andrew Roberts explained, "I wouldn't have given the juniors a test to take this year because I feel that it would have been too much to take in." AP Language teachers were dodging the bullet as well by moving their exams to the first week in February. Many juniors felt it would have been stressful to cram all the test-taking within one week, so teachers were trying to adjust to their schedules. 
It should be noted, this isn't the first year the SHS mid-year exam policy has been re-evaluated. During the 2019-2020 academic year, teachers were allowed to decide if they wanted to give mid-year exams. In fact, the midterm exam column on the semester report card was deleted last year to provide more consistency: since mid-year assessments would be weighted differently among teachers who chose to give exams, it was determined that mid-year exam grades could be folded into an individual teacher's Quarter 2 or Quarter 3 Aspen grade book.  
Due to the myriad challenges of this school year, many students, teachers, and parents feel relieved not to have midyear exams. This takes a lot of stress off of students while they are trying to deal with the hybrid schedule and extensive screen time. Canceling mid-year exams also allows teachers to fit in more material–especially with the unknown factor of school being remote or not. It allows for more in-class interactions, as that week of January 25th is now a regular school week.