The Growth of Tech Companies Poses a Risk to Journalism
Journalism Competition and Preservation Act seeks to improve quality of news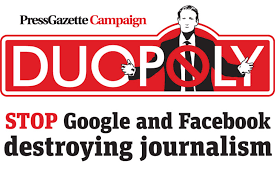 Media and tech companies are rapidly growing in today's modern era. This growth comes with a cost, as news publishers are struggling to compete against colossal companies, such as Google and Facebook. 
Between 2008-2017, newsroom jobs decreased by 23%. This is likely due to the $31 billion decrease in revenue from news publishers since 2006–negatively impacting the quality and quantity of news. 
While newspapers slide down this slippery slope, Google and Facebook gained $60 billion from advertising since 2006. According to the Pew Research Center, the majority of Americans use Google and Facebook to access the news. With this dramatic rise in digital advertising, newspapers are at substantial risk of losing readers and money–or worse–shutting down entirely. 
U.S. House Antitrust Subcommittee Chairman David N. Cicilline and U.S. House Judiciary Committee Ranking Member Doug Collins introduced a bill in 2018 that would prevent the journalism industry from crumbling. This bill is known as the Journalism Competition and Preservation Act, which would improve the quality of news that people access online by allowing small publishers to collaborate and negotiate with online platforms. 
This negotiation period would span a total of 48 months, focused solely on creating trust between tech and press companies and working to improve the quality of journalism.  
According to Cicilline, "Free press is a cornerstone for our democracy." He elaborates that journalists keep the public informed and eliminate corruption. Regarding the bill, Cicilline states that it will provide a "much-needed lifeline to local publishers who have been crushed by Google and Facebook." 
Similar to Cicilline, Collins mentioned that community journalism holds a critical place in our democracy because it helps the American people understand and engage in civil society. Due to their proposed bipartisan legislation, there will be more opportunities for community newspapers to fairly negotiate with large technology companies. 
Cicilline is currently leading an investigation through the Judiciary Committee that would explore if large tech companies, such as Facebook, harm consumers and smaller businesses. He is also investigating if the Federal Trade Commission and Justice Department enforce antitrust laws properly. However, the Journalism Competition and Preservation Act would make publishers exempt from antitrust laws for 4 years for the purpose of ensuring they won't be charged with price collusion–in other words, maintaining market conditions that work in their favor. 
With more accessibility to technology, it is easy to get quick information about current events. But with that, there is a risk to vital journalism institutions. It is important to realize the impact of turning to less accredited news sources for information, as it renders the ability to have unbiased, factual information.