Farm to Tray Takeover at Scituate Schools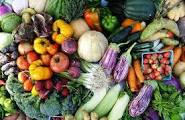 It is a common practice among many cafeterias, including Scituate High School, to offer a salad bar, deli area, and snacks. But David Stevens, Food Director of Scituate Public Schools, and Jon Belber, Education Director of Holly Hill Farm, are planning on doing something different. 
Belber and Stevens are collaborating to design different monthly meals at all Scituate schools. They are sourcing their fresh ingredients from student grown veggies, along with the help of Holly Hill Farm and other local businesses. Belber explained the goal is to source fresh ingredients locally. In the upcoming winter months, Belber is planning on sourcing ingredients from Mainstay Bakery and Brown Boar Farm in Vermont. 
On October 22nd, local foods were harvested for a "farm to tray" lunch at Scituate Public Schools. These lunches were designed to get the community involved. According to Stevens, "farm to tray" encourages students to choose healthier lunches. Haddock from Mullaney's Harborside Fish Market, baked potatoes, and fresh carrots from Holly Hill Farm were served. 
Currently, Stevens and Belber are developing different ideas for more lunches. Stevens hopes to offer fresh ingredients for a week and create different meals with those ingredients each day, such as making a burrito, a salad, or tacos. 
For future meals, Stevens's goal is to "think outside of the box and not just follow within the guidelines."  He believes that discussing how to eat whole, healthy food is important because it impacts students' engagement with the food they are eating.
Belber recently attended a national conference on farm-based education in Washington, D.C., giving a presentation about his role in educating teenagers on the importance of growing organic food. What makes Holly Hill Farm unique is that they focus on education at the farm and the schools, allowing students to be educated on the value of eating high-nutrient level foods. Belber explained, "A healthier lunch is healthier for the community."
According to Stevens, one obstacle they will face is "most people are too busy to stop and think." He stressed the fact that if students don't take the time to think about what they are fueling their body with, long term consequences will follow. 
SHS junior Emma Huggins believes buying local, healthier lunches is good for the environment and good for local businesses. Although she doesn't usually buy lunches, Huggins thinks more people will take an interest in these healthier options provided by Belber and Stevens. 
With the work of both Belber and Stevens, students are given the opportunity to choose healthier meals, helping them enjoy a healthier lifestyle that improves their well being.