Senior Profile: Savi DePass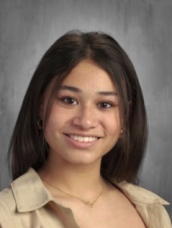 SHS senior Savi DePass, who is also known as Savicha, Savinator, and Savage, is a respected member the senior class and the collective SHS community. 
Described by her friends as caring, creative, and energetic, DePass channels her personality and talent into her artwork. Gaining notoriety during this year's "Our House" assembly in the fall, DePass captured the spirit of the event through a painting she created during the assembly. DePass considers this experience one of her favorite memories from high school. She also credits SHS art teacher Jess Maguire and former SHS English teacher Robin Dean with supporting her creativity and personal growth. 
In addition to her visual art, DePass works with a vocal coach and performs at events for senior citizens at local nursing homes. 
In her spare time, DePass enjoys hanging out with friends, working on puzzles, or serving breakfast at Atlantic Bagel in Cohasset. DePass also adores her two cats, Mabel and Milo, and her two dogs, Mesha and Prince. 
DePass has thoroughly enjoyed growing up in Scituate; however, her favorite place to visit is Jamaica, her father's home country. Describing her special connection to this area of the world, DePass commented, "It's just a different environment and culture, and the people are very welcoming." 
While she is not sure where she will attend college, DePass plans to study design, and she would like to pursue a career in interior design. Fortunately, she's already had the opportunity to develop her skills in this area: she's redone three of her friends' rooms and helped with the redecoration efforts in the senior cafeteria. 
Citing the increased freedom and her positive circle of friends, DePass is enjoying her senior year of high school. She hopes to leave a joyous and unifying mark on the community, and in the future, she'll continue to push herself toward her goals and impart the lessons she's learned to motivate others.